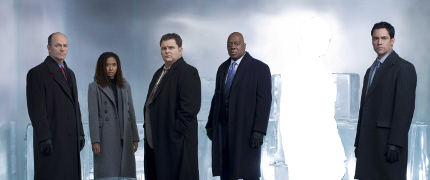 A slight change to our normal monthly round-up this time.  As well as a quick update on the latest news, this post will be the traditional end of year recap of the year's events.  Read on for the December 2018 edition of the KM UK CCCC-up, covering news on the main Cold Case cast other than Kathryn.
First up is Danny Pino (Scotty Valens in CC).  Back at the end of June KM UK pretty much led the media world in reporting on Danny joining the Netflix sitcom One Day At A Time.  We've recently seen photographic evidence of Danny's involvement from the upcoming 3rd season, which débuts on the 8th of February (it's an all-on-the-same-day drop of episodes).  Danny is starring as the brother of the main character, played by Justina Machado (Six Feet Under, Cold Case episode 'The Good Death'), in a recurring role.  Looks like the beautiful India de Beaufort (Kröd Mändoon And The Flaming Sword Of Fire, I just wanted to write that!) is also joining the cast for a few episodes as a 'love interest'.  Not for Danny's Tito, sadly for Danny.  Cleverly, the lucky man Avery is going to be involved with is a character played by the man lucky enough to be India's real-life husband.  How did they think of that?  Both Stephanie Beatriz and Melissa Fumero from Brooklyn Nine-Nine are also set to guest star, as well as Gloria Estefan.
In March we first reported (as opposed to reported first) that John Finn (John Stillman in CC) had filmed a role in a pilot for a new drama series called The Enemy Within.  The show was picked up to series a couple of months later.  One of the released publicity photos included John.  It has now been announced that NBC has planned the show for a 'mid-season' launch in late February.  Based on what happened to Reverie this year on the same network, maybe that should be taken with a pinch of salt.  Of course this year the Winter Olympics is not intruding on the schedules.  We don't yet know of John will recur beyond the pilot, or even if his character has even remained in what will become the first episode.
Now on to the look back to CCCC-ups in 2018.
As we've somehow got this far without mentioning Tracie Thoms (Kat Miller in CC) let's start with her.
On the TV front Tracie had a recurring roles Gone, 9-1-1, UnREAL, Love, Are You Sleeping, and The First.  Gone starred Danny P.  We knew that, but some how didn't really know about Tracie also having a significant role until very late in the day.  The multi-emergency service drama 9-1-1 was a mid-season entrant with its 10-episode first season starting in January.  Shortly after the second episode aired it was announced that the show would return for the autumn/fall with a new season.  That first run ended with episodes that included Tracie in a recurring role.  The nature of the 1st season finale led Tracie to return for the start of the 2nd.  UnREAL has had a complex life, with lots of UnCERTAINTY about its future, but the third season of the Lifetime network drama was broadcast in February.  UnUSUALLY, the 4th was filmed in conjunction with its predecessor but was not expected to appear until 2019.  Streaming service Hulu had other ideas, UnLEASHING the final season in July.  Ahh, Love.  The slightly dark-humoured sitcom had it's 3rd, and last, season this year and Tracie's TV show producer character was seen again a few times across this run.  Are You Sleeping (with an oddly missing ?) is a thriller series announced this year and produced for Apple's streaming services.  These companies all want to be content creators as well has providers.  It's how they try and hook you in.  It has quite a cast including Octavia Spencer (The Help), Lizzy Caplan (Cloverfield), Aaron Paul (Breaking Bad), Elizabeth Perkins (Weeds), and Mekhi Phifer (ER).  Tracie is said to be in all 10 episodes of the upcoming drama as we discovered in June.  Look for that in 2019.  And lastly, in July we heard about The First (see what I did there?).  Sean Penn (21 Grams) and Natascha McElhone (Ronin) lead the 8 part sci-fi-ish drama series about the first (see what they did there?) manned mission to Mars.
Film-wise Tracie was also busy, though with films the busy-ness often proceeds the release by a while.  Many of these films Tracie made last year (2017) or earlier.  A quite extreme example of that is California No.  A small indie film starring Jordan Hinson (Eureka), amongst others, was filmed back in 2015.  This year it finally received a première at a film festival in San Francisco in February.  I actually missed until now that the film received a DVD/Blu-ray release in the US at the beginning of December as well.  Another film to slip a few times is The Basement.  The O.C. star Mischa Barton-led horror film was doing festival rounds in 2017 and could very easily have been released around that time.  It took until September 2018 for a limited cinema release of the movie, which saw Tracie in a small role, to happen.  Bargain buckets await.  Last year's CCCC-up round-up also included talk of the short film The Pipe.  The only word on it since is that it received a première at an Italian horror film festival in October.  I think I missed that too.  Are We Good Parents? was another short starring Tracie which we first discussed here on KM UK in 2017.  It got an SXSW 2018 première in March.  Brit actor Sean Maguire (Once Upon A Time) co-starred as Tracie's husband as the couple dealt with an issue regarding their perceived notions of their daughter's sexuality.  In April we found news of Tracie starring in a film called Emmett.  It looked like another film stuck in limbo as it could well have been in production since 2016.  Rita Wilson (Girls) and Miles Brown (Black-ish) star in a comedy about a mis-matched pair (young kid and retiree) teaming up to solve a crime.  We heard nothing more on this during the rest of 2018 so another one for the 2019 pile.  We also haven't seen any more news on a movie project called Straight Up since October.  Tracie was reported as being in it.
Tracie also took part in various stage productions and one-off singing events.  Keeping up with her workload is dizzying at times

Danny is much easier to document.  2018 has been all about two projects for television:  Gone and Mayans MC.  12-parter Gone was about an FBI team solving abduction and missing person cases.  Chris Noth (Sex And The City) and Leven Rambin (The Hunger Games) co-starred with Danny and Tracie.  Gone had a slightly troubled release with it broadcast in Australia and Germany before the US.  Mayans MC is a sort of spin-off from the very successful Sons Of Anarchy series.  Mayans MC is set in the same 'universe' but is almost entirely separate in terms of characters.  The show underwent a few difficulties during development with the pilot being re-worked and re-shot with new actors and characters.  There was some doubt about Danny's involvement prior to broadcast in September because his name was missing from the press releases, but he was definitely in it.  We also had news about Danny having a recurring role in the Netflix sitcom One Day At A Time.  See above for the latest news on that.
We've mentioned John already above in relation to the TV series The Enemy Within.  That story started in March when the pilot was announced.  He's not Tracie-like in his monthly appearances in the CCCC-ups but he gave us a few things to report in 2018.  Starting with the film Beyond Suspicion (aka Bent) getting a release in March.  Karl Urban (Dredd), Sofia Vergara (Modern Family), and Andy Garcia (The Lost City) star in the straight to VOD action thriller.  July saw the news of John signing up to take part in the new season of The Walking Dead, the long-running zombie apocalypse survivor series on the AMC network.  The show is currently on a mid-run break and is due to return in Feb '19.  The Brad Pitt movie Ad Astra, which we first heard about in July of 2017 was set for release in a few weeks from now.  However, in October it was announced that the film would be delayed until May.  This is a decision based on the likely more favourable audience figures away from the winter.  Talking of protracted development times (as we were above), Finding Steve McQueen was already more than five years into planning when in September 2016 KM UK first mentioned it and John joining the cast as the real-life Deputy Director of the FBI, Mark Felt.  It became known some years ago that Felt was the informant known as 'Deep Throat' by the journalists Woodward and Bernstein.  The film covers events involving President Nixon and an attempted theft of $30m.  There is little more news on the project after a première in Monte Carlo in 2017 it apparently received some sort of release in Portugal in November.  To round off John's year in the 2018 CCCC-ups we had news of a Showtime network series in the works called The Loudest Voice In Room.  It is a drama about the late, ex-boss of Fox News Roger Ailes.  Russell Crowe (Gladiator), Naomi Watts (Mulholland Drive), Seth McFarlane (The Orville), and Sienna Miller (American Sniper) star.
Whose next?  Jeremy Ratchford (Nick Vera in CC).  Very lengthy production processes seems to be the theme for the year.  Four years ago, this very site reported on Give Till It Hurts, in which Jeremy has a small role.  Filming had already taken place earlier in 2014.  You can't say we're not in this for the long haul.  Release was thought to be during 2015.  According to IMDb there was a release in the US in July of 2018, which we reported in February.
At this point I'd like to be giving you an update on Thom Barry (Will Jeffries in CC) news for the year.  Unfortunately, I can't as we had no news, at all, on Thom during 2018.  Hopefully we'll hear about him in 2019.
We do occasionally step outside of our normal CCCC-up brief of covering the cast to look at a couple of key crew members behind Cold Case: series creator/writer/exec producer Meredith Stiehm and writer/producer Veena Sud.
Meredith has been heavily involved in the Writer Guild Of America the past few years after working on Homeland and The Bridge.  However, it looks like a return to the studio environment in happening as we reported in September that she is adapting the book The Banker's Wife for a drama series.  Meredith will also be exec producing the Rosamund Pike-led (Gone Girl) project
In February Netflix released a trailer for Veena's new project, Seven Seconds.  We'd covered it much during 2017.  The series, based on a Russian movie of all things, was about the accidental shooting of a black teenager by a white police officer and the fallout within the community.  The full season was made available in mid-Feb on the streaming service.  A couple of months later it became known the show was not going to continue with a second season.  That same month news broke on a new project for Veena.  This time it was a movie to be directed and co-written by her called The Lie (aka Between Earth And Sky).  It reunites Veena with Mireille Enos and Peter Sarsgaard from her US remake of The Killing.  The film is about a father and daughter caught up in an incident with serious consequences.  And to finish this whole post up, just last month there was some vague news about Veena adapting Alfred Hitchcock's movie Suspicion.  It was single sourced so we'll have to see how that one plays out.
Thank you for being with us for this slightly off topic posts during 2018.  See you again in 2019.