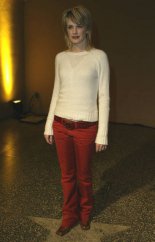 I don't know how long the '2004 CBS & UPN Winter Press Tour Party' event went on for on the 17th of January that year, but if the length of the title is anything to go by it was a lengthy affair.
Let's break that title down:
2004: pretty self explanatory.
CBS: US TV network responsible for broadcasting many popular shows, including Cold Case.
UPN: A now closed television network that in 2004 was owned by Viacom. Shortly afterward it was taken on by CBS and then closed in 2006.
Winter:  It was January!
Press:  It was connected to a promotional event to which members of the press were invited to interview the cast and crew of various TV shows.
Tour:  Presumably the press events  took place in various cities, but it is not clear.  This 'party' was only in one place!
Party:  Do I need to explain?  It was a post-event bash.
At the time this party took place Cold Case had aired only the first 11 episodes, having premièred the previous September.  All the new shows that started that 2003-2004 season would have been on major promotional pushes to boost the audience as they headed towards the spring.  If the figures dipped too low they'd be for the chop come the decisions in May for the following season.  Cold Case had one of the biggest ever audiences (15.55 million) for a new show's first episode on the network.  A figure it beat several times over the course of the season and on it's return for 2004-2005.
Six new photos of Kathryn at this event are making their début in the KM UK Gallery today.
As you can see Kathryn was sporting shorter hair at the time, as we saw in many other events (People's Choice Awards 2004, a SAG Awards promo event, the Primetime Emmys).  Which makes her very long ponytail at the actual SAG Awards in the February of that year more than a touch suspicious…  Not exactly Cold Case material, still very much a hot one 😉