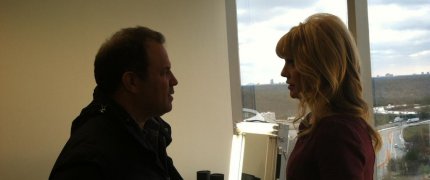 It's been a while since we had reason to post about the not picked up TV drama pilot The Surgeon General.  Not since the last time in fact

In July of 2013 we saw the surprise (and possibly accidental) publication of a promo video for the show.  By then we already knew the show had not been selected for the 2013-2014 TV season by the CBS network.  That decision was clear (largely by omission from announcements, but also by director Rod Lurie Tweeting about it) a couple of months earlier.
Much like the promo video release we can still get the occasional pleasant surprise, even 2 years later.
Rod Lurie spent a bit of time yesterday (18th April) reminiscing on his Tweeter feed with photos from various projects he's been involved with over the years.  One of them (now in the Gallery) was the one you see above.  That is Rod and Kathryn on the set of The Surgeon General.
Rod should be well known to all Kathryn fans because she has been in most of his feature films.  She starred in Deterrence, The Contender, The Last Castle (in scene that didn't make the final edit) and Resurrecting The Champ.  For a long time I've thought of Kathryn as probably being Rod's muse.  He's now confirmed my feelings by posting the above photo with the message:
#KathrynMorris is closest person I have to a muse. In 4 of my films. Here I direct her in a pilot  #SurgeonGeneral.
Hopefully they'll work together again soon.
Thanks to Rod for the trip back down memory lane.