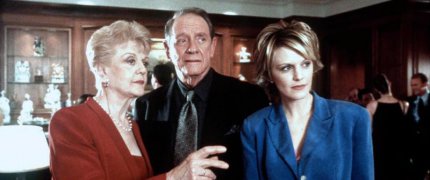 In the run-up to Xmas the UK-based TV channel ITV3 are filling up their daytime schedule with lots of family friendly films.
For four days, starting at 10:35am from Monday (17th December 2012), ITV3 are showing all four of the Murder, She Wrote TV movies that were made after the TV series ended.  A Story To Die For was the second of the four films but for some reason it is being shown last on the Thursday (20th December 2012).  They've muddled up the order completely!  How difficult would it have been to play them chronologically?
A Story To Die For sees Kathryn playing Patricia Williams, the assistant to an old writing friend of Jessica Fletcher and an aspiring writer herself.  Patricia gets embroiled in the case of the murder of an ex-KGB author at a speakers conference.
The promo photo shown above is now in the Gallery.  Thanks to Kathy for passing it along.