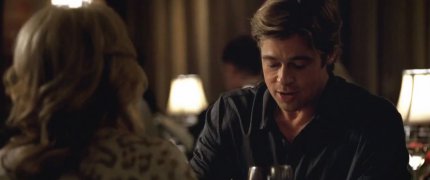 Apparently silly season has its own version of the Indian Summer.  Who knew? 

You and I know this is a stupid story.  Let's hope that the people of the National Enquirer really know it as well or there really is no hope for civilisation.
For some reason the US tabloid has decided to dredge up the Kathryn/Brad/Angelina story that was first fabricated last year when the movie Moneyball was filming.  But they are not repeating that nonsense.  No, of course not.  Heaven forbid.
Surprisingly late to the party, as Moneyball has been out several weeks, the Enquirer has spotted that Kathryn's scenes are not in the movie.  I'll leave it to them, in their own inimitable style, to try explain that cutting Kathryn's scenes made sense for the movie.  They are not implying anything at all.  Honest.
The article on the National Enquirer website is not available outside the US so I've copied the text below.
Update (13 Oct):  ZimGossip is carrying the story on a more widely available site HERE.  Also, Sophie S. Benvenuti at Gather.com has written a similar piece to mine about the National Enquirer article.  You can read her take in this "news" HERE.