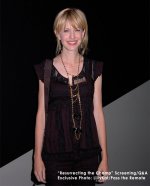 Inspired by last week's posting of about an interview and chat with Kathryn, I was wondering what would you say?
As a quick reminder:  reporting for the Pass The Remote website back in 2007, LillyKat attended a special screening of Resurrecting The Champ.  After showing the film there was a Q&A session with several key people, including Kathryn, from the project.  LillyKat was able to ask Kathryn some questions about the film, the character she played and her return to the big screen.
After the after LillyKat was got a chance to talk one-on-one with Kathryn and ask her some more questions.  You can read the two-part article LillyKat wrote about the experience starting HERE.
If you were in the same two situations what would you ask Kathryn?  Is there a question you have about Resurrecting The Champ or Kathryn's character Joyce?  Can you think of a way that you would explore those points further in a later one-on-one?  Perhaps this would give you a chance to talk more about Kathryn's wider body of work.  Remember that this is 2007 so season 5 of Cold Case is just about to start airing, and Cougars, Inc. or Moneyball do not exist yet.
Please leave your ideas in the comments below, mentioning whether each question would fit in to the Q&A or the 1-on-1.  Let's keep the understandable fan-boy/girl gushing to a minimum and treat it like you are a proper reporter preparing an article for a newspaper or website.
Who knows, maybe one day we'll be able to put some of your questions to Kathryn herself.