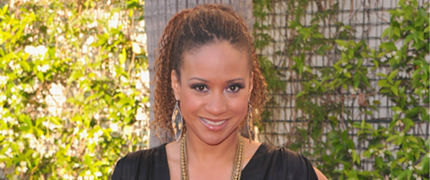 The summer holidays, and possibly the summer itself based on the current weather forecasts, might be coming to an end but some people have been working.  August 2017's Cold Case Cast Catch-up peruses the on-going careers the others in Cold Case.
I need to start things off with an apology.  Last month's CCCC-up I accused Tracie Thoms (Kat Miller in CC) of not doing much in July for me to post about.  I was wrong to doubt.  I should have known better.  Sorry Tracie.  If I had only checked my own notes properly before hand I could have avoided this hurt.
Let's rectify this egregious error immediately.
In the middle of July Ms Thoms worked on a short film called Are We Good Parents?  This is the work of writer/director/producer Bola Ogun.  Bola looks like she's been a one woman film industry in the past 10 years having worked as a production assistant, assistant director, writer, voice actor, actor, and is now moving into producing and directing her own films.  Initially this appears to be with a series of short film.  One of those films, The Water Phoenix, premièred at the LA Shorts Fest earlier this month.  Are We Good Parents? stars Brit actor Sean Maguire (Robin Hood in One Upon A Time) and Gabrielle Skye, alongside Tracie.  In England Sean is still best known for stints in kid drama Grange Hill and soap opera EastEnders.  He's since moved to LA and had a string of guest roles in shows you may have heard of like CSI: NY and Cold Case?  He was in Two Weddings from season 7.  Are We Good Parents? is currently in post-production.
To get more up to date:  Waaaaay back in Feb 2016 (see here) I posted about a feature film called 9 Rides by Matthew A. Cherry

  At the time the film was looking for a little extra financing via Kickstarter to… errrr… get finished.  It went on to debut at the SXSW festival in March of the same year.  A week in to this August it was announced that the film had been acquired by Gravitas Ventures and Flourishing Films, presumably for distribution in some form.  For some reason the site hosting that announcement is no longer available so I can't verify details.  9 Rides is about an Uber driver on New Years Eve.  I believe Tracie plays one of several sets of passengers the driver transports during the course of the film.  We'll have to wait to see if anything comes of this news.
Tracie looks to be returning to the scene of the Criminal Minds in September.  She is set to reprise her role as Monica Walker, wife of a main character, in the première episode of season 13 of the show.  This is based on the IMDb listings.  However, I see that the actor playing the husband Damon Gupton has been dropped from the cast.  Tracie's appearance, assuming it happens, may have a bearing on his character's departure.  Another one to wait and see.
More Love will be heading Tracie's way as the Judd Apatow created Netflix comedy drama Love has been given a third season.  Gillian Jacobs (Community) and Paul Rust (co-creator and writer) star as a mismatched couple in the warts-and-all relationship-based show.  Season 3 is due to air early next year.
Moving on from Tracie.  Recent birthday boy Jeremy Ratchford (Nick Vera in CC) has been making a short film called Radio 88.  The 12 minute-long piece by Kim Noonan and John Salcido centres on the closure of a radio station and a man trying to get to the studios in time to meet 'the love of his life'.  Jeremy is listed as playing 'Danger' Dickie Defozzio, at a guess I'd say he's a radio DJ.  A première date of 11th September this year is given for the work, presumably at a film festival, but I have yet to determine which.
Did I miss anything?