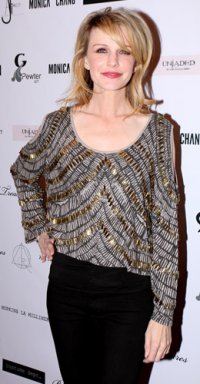 Six years ago today I posted about Kathryn attending a cocktail party to mark the opening Costella & Donola Boutique in LA.  That happened just over six years ago on the 11th November 2010.
I think you've waited long enough for some additional and updated photos so now seems like the perfect time to do that.
Along with a very slightly enlarged first image there are 4 'new' images now in the Gallery.
One of the two artists, Isabelle Donola, was kind enough to visit our little website and leave a comment on my brief post covering the event.  KM UK was even featured on their website in amongst their images of media posts.
In the intervening time Isabelle appears to have gone solo.  She has her own website HERE (KM UK still features).  In 2014 she appeared on a fashion-based reality TV show called Under The Gunn.  It was a sort of spin-off from presenter Tim Gunn's very successful Project Runway show.
In one of the photos (middle below) you can see Kathryn chatting with the actress Rebecca Mader.  Earlier that year the two had worked together on the film that became Cougars Inc.  After a series of small film and TV roles (including The Devil Wears Prada) the English-born actress known for her striking red hair and piercing blue eyes came to wider public notice in the TV series Lost.  Since then she's done many guest starring roles (Fringe, 30 Rock, Blue Bloods, and Iron Man 3 amongst them) and for the past few years has been a regular on the ABC network fantasy drama Once Upon A Time as Zelena.  In fact you'll be able to see her in the next episode (S06E08) due for broadcast tonight (13 Dec) in America.