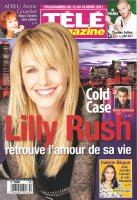 Obviously I'd like to French Kathryn myself but I'm outnumbered to the tune of over 60 million to 1 by a whole country of them!  I can't compete with that!  😀
Yet again the French television viewing public prove that they appreciate Kathryn more than most by giving her another magazine cover starring role.  This week's edition of Télé Magazine (number 2888, for the week 12-18 March) is previewing Cold Case season 7 due to be broadcast on the France 2 channel.
The photos used to illustrate the article are not new but they've chosen some great shots of Kathryn.  Scans of the cover and article pages can now be found in the Gallery.  Below you can find a transcript of the French text and a basic translation into English (Google translate + manual editing).  If any French speakers have any suggestions for corrections please let me know.
Huge thanks to Rusher for putting in a great deal of effort to help me with this.