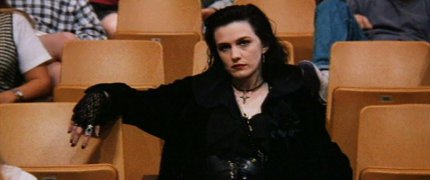 As I started to put this post together the obvious subject line to use was 'Resurrection Of A Cheerleader'.  It tied in very nicely with the Death Of A Cheerleader film title.  Turns out I thought it was a great title back in February when I first used it!  Mind like a sieve sometimes!
This news I recently found of the Lifetime channel in the US, broadcasting a remake of the 1994 movie sometimes called A Friend To Die For yesterday, should have been less of a surprise as I'd previously reported this same thing.  So often I post about the announcement of a project Kathryn is due to star in, following up some time later when it gets released or other news breaks on the subject.  I initially took my earlier article on this 2019 TV movie as a 'in development' item.  As I said, very forgetful.
Nope.  Turns out February was the début.  Not sure why some outlets are reporting the Labor Day weekend showing as a first.  It did form part of a cheerleader themed week of films (Denise Richards of Cougars, Inc. stars in one of them).  Some of of them were premières, so maybe that's where the confusion lies.
Anyway, Kathryn got some mentions as a star in the 1994 film.  Sadly she didn't make a return in this one, Kellie Martin (one of the teenagers before) did guest star as a police detective though.
If, for some reason, you want to see this remake then it is no doubt being shown often enough on Lifetime so you won't have to wait long for it to come around again.  They'll probably re-do it again in a few years.  Perhaps Kathryn can be persuaded to be in that one.
Sorry to have bothered you.
The original Death Of A Cheerleader was covered 8 years ago on KM UK HERE.