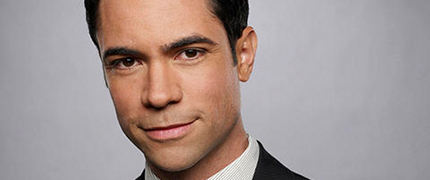 We're already 1/12th of the way through 2018, more if you consider the number of days.  To mark the occasion here's a quick round-up of updates in the world of the Cold Case cast that aren't Kathryn.
For a while now we've been talking about Danny Pino (Scotty Valens in CC) and his new project: the TV series Gone.  Whilst nothing specific happened that we're aware, the show seemed to be in limbo as we approached the end of 2017.  It has apparently been broadcast in Australia but there had been little else from the US/German/French co-production.  Things have definitely taken turn of the better in the past week though.  The show has débuted in both Germany and France.  If reports are anything to go by it did well in Germany, with a big audience share.  Just after the New Year news broke that Danny's other recent TV project, the Sons Of Anarchy spin-off, Mayans MC has been picked-up to series by the FX network.  Expect to see it in late summer in the US.
Speaking of Gone, as we were at the beginning of the previous paragraph, turns out that our Tracie Thoms (Kat Miller in CC) has been holding out on us.  As far as I'm know we had not been made aware of Tracie guest starring in Gone.  Not only is this another reunion with Danny, along with a short film called Say Goodnight And Go they made late last year, it is a return to 'the badge' as Tracie is playing an FBI agent as does Danny.  It also looks like Tracie has recently wrapped filming on the TV series UnREAL.  After a uncertain period during 2017, when it didn't return for season 3, UnREAL will be back in February.  Plus, season 4 is already filmed and could be broadcast later this year.  Returning to the emergency services theme, Tracie is due to guest star in tonight's (31 Jan) episode of 9-1-1 on the Fox network in the US.  This is a new series that started this year and focuses on all three branches of the first responders:  firefighters, paramedics and the police.  Plenty of scope for stories there, including cross-overs between the 3 sections.  Angela Bassett (Strange Days), Peter Krause (Six Feet Under), and Connie Britton (Nashville) are amongst the stars.  The show has already been renewed for a second season.