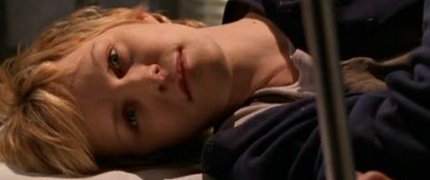 The year has started well for Kathryn fans in the UK.
In the first couple of days we had showings of the film Inferno.
Cold Case is getting daily screenings available to everyone with a TV, and not just those with a satellite dish attached to it.
This run of luck is set to continue but you'll need to stay up very late or be up very, very early (or set the PVR) to see it.
The TV series Providence is currently being broadcast in back-to-back pairs starting at 1am on the Movie Mix channel.  Friday (22nd of Jan) morning (or Thursday night if you prefer) the final episode of season one is up first.  That can only mean one thing.  The second of the double dose is the first episode of season two.  2am OK with you?
Going under the title of The Third Thing Kathryn guest stars Molly, a disturbed young woman struggling to deal with the loss of a child.  The staff at the Rhode Island clinic run by Dr Sydney Hansen (Melina Kanakaredes of CSI: NY) find themselves in a hostage situation when Molly pulls a gun.
Providence ran for five seasons from 1999 to 2002 on the NBC network in the USA.
I've looked at this episode of Providence almost 6 years ago on KM UK here.  Screencaps can be found in the Gallery.