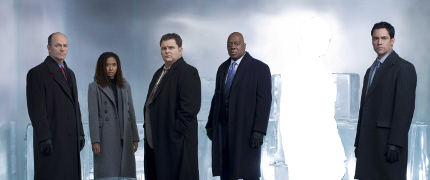 As this is the last Cold Case Cast Catch-up of 2017 I'll do a bit of a round-up of the year as well as the latest news on the Cold Case squad.
Let's start with Tracie Thoms (Kat Miller in CC) for the chivalrous reasons of ladies first and because describing her on going career so dominates our monthly updates.  It would be easier to list all the things Tracie didn't do in 2017!  I'm bound to miss a few things but here is most of what we covered.
We started with a CD release of the soundtrack from the stage musical Falsettos, in which Tracie starred as Dr Charlotte in 2016.  The show was also filmed for broadcast on TV during the year.  TV viewers got to see Tracie in numerous guest roles.  She did a season ending and new season starting two episode stint on the crime drama Criminal Minds.  As the wife of one of the main characters going through… shall we call it a 'major transition', her Monica Walker played a significant role.  Early in the year the Netflix comedy Love returned for a second season with Tracie back as a TV producer of a show-within-the-show.  More on that later.  Speaking of shows about shows, Tracie booked a recurring role on the Lifetime network drama series UnREAL.  The show has had a bit of drama outside the sets as the planned season 3 for 2017 was delayed.  Things looked shaky for the show but it was confirmed that not only will it return next year but season 4 is already filmed.  Tracie donned the police uniform again (I know) for a one-off role in the Starz fantasy drama American Gods.  Topping of her TV year was a guest role, as a Special Agent, on the short-lived drama Wisdom Of The Crowds.
On the film front The Drowning (aka Border Crossing) got a limited release mid-year.  Horror film The Basement got a world première at Shriekfest in October.  Not sure when that will get a wider release.  Tracie also got involved in a various short films:  Top Ramen, Pipe, and Say Goodnight And Go.  That last one has been in the planning stages for a long time, crowd-funded some money early this year, and was finally filmed a few weeks ago.  Our own Danny Pino co-stars.
Bringing us up to date Tracie let it be known that the 3rd, and final, season of Love will be released in March 2018.  Just a week ago Tracie was back on stage performing a solo play she didn't know at all.  White Rabbit, Red Rabbit by Nassim Soleimanpour, a conscientious objector unable to leave Iran, involves a different actor each performance.  They are given some basic instructions a few days before hand but are only given the script as they go on stage.  Tracie called it a 'wild ride'.  Indeed.
I've mentioned him already so it only seems right to go to him next.  Danny Pino (Scotty Valens in CC) co-starred in that short film Say Goodnight And Go alongside Tracie.  Other than that it has been relatively quiet from Danny.  Next year will likely be different as he had several project announced this year.  Gone is a US/French/German co-produced drama series for NBC Universal about missing persons cases.  The show has been made but it is unclear when it will be broadcast.  Apparently the first episode has already been shown in Australia.  Hopefully 2018 will be its year.  The other big news was a spin-off series from hit Sons Of Anarchy called Mayans MC.  The show has had a difficult production process so far with Danny signed-up for a new pilot episode after the first attempt was rejected.  They are looking to make a series for 2018.
Jeremy Ratchford (Nick Vera in CC) made a few TV guest starring roles this year.  In NCIS: New Orleans he was a dodgy cop and when Criminal Minds: Beyond Borders investigated a case in Russia he was 'Boris'.  There was a role in I Am That Man, that was shot in May but has yet to see the light of day, and a short film called Radio 88.  Just last month we saw Jeremy at a table reading for a new film called Everybody Dies.  I forgot to mention this in Tracie's section above but she is also in it.  Presumably we'll hear more about that in 2018.  A feature film that has recently been announced as receiving a general release is Small Time Crime.  After a couple of film festival showings (US & UK) the movie will be out in January 2018.  A trailer was released in November.
Last year there was much talk of John Finn (John Stillman in CC) appearing in the first episode of the new legal drama TV series Doubt.  John's role ended up being tiny and the show didn't last long.  Sticking with TV, John returned to the biggest show in the US, NCIS, reprising a role he played in a two-parter back in 2011.  The character had been promoted and retired in the intervening period.  This new story centred around his daughter.  On the big screen the film Gifted was released.  It was not a box-office smash, what with lacking superheroes, but was well regarded.  John also has movies Bent, Finding Steve McQueen and Ad Astra in the works.  We have a release date for the Brad Pitt sci-fi film Ad Astra:  it's January 2019!
Which brings us to everybody's favourite:  Thom Barry (Will Jeffries in CC).  Things are always laid back with Thom.  There are a couple of short films hanging over from 2016 we've not really heard anything of this year.  We do know he filmed a short film with Tracie (something else I forgot to add above) in her very own home.  It was called Career Suicide.
We don't often mention her, and it has been a year since we last did, but there is news on Veena Sud (writer/producer on CC).  Just a couple of weeks ago a brief teaser trailer and poster image were released for the Netflix drama series Seven Seconds.  Veena is the creator of the show, although it is based on a Russian movie, and one of the writers.  The show is based around the accidental death of a black teenage caused by a white police officer.  Regina King (American Crime) stars as the child's mother.
I think that just about covers 2017 and brings us up to date in the on-going careers of the Cold Case squad that aren't Kathryn.  Come back in 2018 for more.