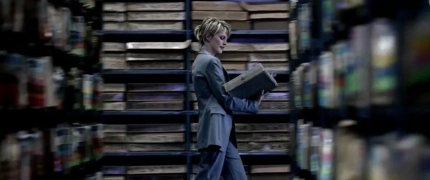 Back before the days of equal rights for women in the workplace many women took on very important jobs on farms and in factories.  It was part of the war effort in the 1940s.  Men of working age were sent off to fight, leaving the women to fill in.  Quite why things had to return to 'normal' afterwards is a mystery.
Factory Girls, episode two of Cold Case's second season, is about the death of one such lady in at munitions manufacturer in 1943.  Was the guilty party one of the other ladies in a jealous rage, an embittered man not fit to fight for his country, a rival arms maker trying to close the factory, or does Lilly uncover a massive "BigArmour"conspiracy aimed at harming America's war effort?  It's safe to say it is probably not the last one.
One of the guest stars in this episode is Jenna Fischer who went on to star in the US version of Ricky Gervais and Stephen Merchant's TV series The Office.  Coincidently the show reaches the very end of a 9 series long run later this week.
249 HD (720p) Lilly screencaps from the episode can now be found in the Gallery.