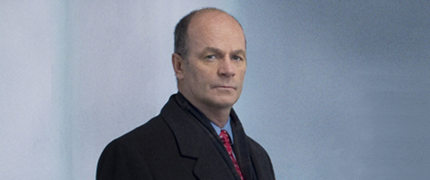 As it is the end of the month (nearly) it is time for updates on the careers of the main Cold Case cast other than Kathryn.  She gets enough attention around here.  Here is the news from March 2018.
We're going to start with one our less frequent fliers: John Finn (John Stillman in CC).  It is pilot season in TV land and NBC has ordered one called The Enemy Within.  Starring Jennifer Carpenter (Dexter), Kelli Garner (Pan Am), and Raza Jaffrey (Spooks) the show is about a former CIA agent jailed as one of the biggest traitors in US history.  She, Erica Wolfe, is released to help the FBI prevent serious cases of espionage.  John is listed as playing Richard Bregman.  It is not known if the character is to be a recurring one.  In coming months we will no doubt find out more.  In last month's CCCC-up we talked about the release of the movie Bent in early March.  That happened on the 9th.  See the previous article for more details, including a link to the trailer.
Another less frequent appearer in these updates is Jeremy Ratchford (Nick Vera in CC).  Jeremy was in a recent episode of the NBC (them again) series Taken.  Somehow based on the movie of the same name the show starts yet another Brit abroad Clive Standen (Vikings) and Jennifer Beals (Flashdance).   Airing on the 2nd of March, titled Absalom episode 5 of season 2 saw Jeremy play Detective Lyons.  A cop again!
In combined Tracie Thoms (Kat Miller in CC) and Danny Pino (Scotty Valens in CC) news, the series that saw them reunited (after the brilliant BrainDead of course), Gone, has started being broadcast here in the UK.  It is on the Universal channel on Monday nights at 9pm.  The first episode of the 12-part drama was shown on the 19th of March.  Universal is available on cable and satellite platforms.
Limiting ourselves to just Tracie she continued her recurring role in the cross-service based drama series 9-1-1.  Including the season finale last week.  There were only 10 episodes in this mid-season run but the show has already been signed for a second season due to start in the autumn/fall.  So far the news is that it will have 16 episodes in two runs of eight stretching into 2019.  The show stars Angela Bassett (Black Panther), Peter Krause (Sports Night), Aisha Hinds (Under The Dome), and Connie Britton (Nashville) amongst others.  Tracie plays Aisha's characters partner, I think.  Speaking of guest roles Tracie's episode, called Gestalt (a German word often used in a similar way to holistic), of returning show-within-a-show show UnREAL aired on the 26th of March.  And the final season of the Netflix show Love got its big release all in one go in early March.  Tracie returned as the TV show producer in a handful of episodes.