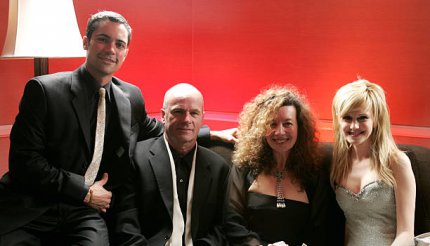 We are deep in the midsts of awards season.
The BAFTAs were last weekend (18th Feb).  The Oscars are next weekend (4th March).  The British Music Awards were a few days ago.  The Grammy awards ceremony happened at the end of January.  The MTV Europe Music Awards are…. OK, they're ages away (November!).  Don't worry, the KM UK annual awards will be in a few weeks.
To jump on this bandwagon, and to make up a little for the lack of posts recently, it is time to go back in time to awards ceremonies gone by.  The Costume Designers Guild Awards in 2005 to be precise.
If it was 2013/2014 this post would just be Frozen reference after Frozen reference regarding Kathryn and her fairy princess dress.  But we're all so sick of Frozen references.  Let it go already!  Sorry

  The release of a sequel late next year will no doubt kick it all off again though.  That should kill off the current unicorn craze, unless Frozen 2 includes a unicorn!
The lady sharing the sofa with Kathryn and the boys in the image above is costume designer Jill Taylor.    Presumably Kathryn, Danny and John presented Jill's award to her, which is why they are pictured together afterwards.  She won for her work on the film The Life And Death Of Peter Sellers.  The biopic about the late actor/comedian starred a host famous names including Geoffrey Rush (The King's Speech), Charlize Theron (Mad Max: Fury Road), and Emily Watson (Punch-Drunk Love).
The KM UK Gallery has now been updated with 12 new images (and a small update to #10).