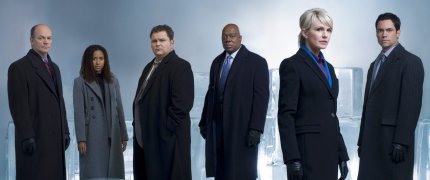 Instead of a round-up of the news on the non-Kathryn cast of Cold Case, this month we're doing more of a round-up of the round-ups.  A fairly traditional thing to do this time of year across all sections of the media.
Let's go alphabetical (by first name as we're all friends) for a change.
Danny Pino (Scotty Valens in CC) started  the year part way through his 3rd season on the police drama Law & Order: Special Victims Unit.  He ends the year in the same position in his fourth.  I don't watch the show so I can't really comment on the character or the show but I understand Detective Amaro has featured in a significant story line that ran across the two seasons.  These 20+ episode season, major network shows take-up most of the year to make so there isn't a lot of time for other projects.  We haven't seen Danny take any that I know of.  In June Danny was one of the nominees for a Imogen Award, which recognise those promoting Latino culture in the media.  He didn't win this time.  Check out our friends over at Danny Pino Online for all the latest info on Danny.
Jeremy Ratchford (Nick Vera in CC) is another that hasn't stuck his head above the parapet too often in 2014.  A movie called Death Valley that JR filmed in 2013 constantly looked like it might finally surface but, beyond a screening in July, never did.  Jeremy's role appears to be that of a police officer.  Jersey Boys, a film adaptation of the stage play about the '60s group The Four Seasons, was released mid-year to some acclaim.  Clint Eastwood (Unforgiven) directed and Christopher Walken (Catch Me If You Can) starred.  Jeremy had a small role in that as… wait for it… a police officer.  More recently we've had news on a couple of other roles for JR.  A significant role in a short film called Keep It Together in which a now sober, soon to be father strives to save his uncle (Jeremy) from drinking himself to death.  The other is a small role in a larger film called Give Til It Hurts.  Two brothers seek to recover their inheritance.  Jeremy is cast as 'Elvis'.  Both are due for release in 2015.
John Finn (Lt. John Stillman in CC) fans were disappointed in January when the Irish drama series An Bronntanas failed to materialise as expected.  Like a small boat full of drugs and a dead body caught in a storm, the show was tossed about a lot.  Would it be a series, edited down to a feature film length, or lost at sea?  Eventually the show found its mooring as originally intended on the TGS TV network as a 5 part series starting in late October.  John played a… wait for it… police officer investigating the life boat crew that found the stash of drugs and the dead woman.  A TV show pilot headed by John Cusack (2012) about Wall Street in which John was due to star in some capacity never made it further.  It could have been in the current 2014/2015 season.  In better news John had guest starring roles in the short lived show Believe early in the year and, more recently, in the new CBS drama Madam Secretary.  At this time there is no signs of future projects for John, but no doubt there is something in the pipeline.
Thom Barry (Will Jeffries in CC) was announced as a recurring guest star in the TNT crime drama Perception, lead by Eric McCormack (Will & Grace) and Rachael Leigh Cook (She's All That).  The news broke just after the show's third season started airing in June of this year.  10 episodes later the show went on hiatus until February 2015 with no sign of Thom.  There are due to be 5 episodes to conclude what will be the final season for the show.  Thom is to play an senior FBI agent.  There were reports, no oddly difficult to find, that Thom was to play the father of R&B star Aaliyah in a Lifetime network TV movie about her life.  The show aired a few weeks ago but Thom was not in it.  I'm still not sure what happened there.  Just last month I reported on Thom starring in a short film called Desire.  It was looking for crowdfunding at the time.  Despite not reaching its target it went into production.  The latest is that Desire is in the process of being edited.  Back in May of 2013 I described a film called Richard Peter Johnson as the having a "triple-whammy name" that "says everything, yet tells us nothing".  Things have been largely quiet since but is still actively seeking buyers to distribute it.  I still don't think I can go into details on the film here on KM UK though.
Which brings us to our last, and anything but least, subject…
Tracie Thoms (Kat Miller in CC).  It's almost impossible to briefly sum up Tracie's year as she has featured strongly in nearly all our CCCC-ups in 2014.  Is there a word above 'prolific'?  Tracie came out of her corner punching with the release of women-fighting-for-their-lives movie Raze on some VOD services.  The UK saw the DVD mid-year.  Drama McCanick, in which Tracie had a small role, was similarly available on VOD and DVD in various parts of the world in 2014.  She was in a short film that was broadcast on HBO called A Different Tree.  Not content with being in films Tracie allowed her house to be used as a set for another called 2 Black Dudes.  Then it was off to film another small role in the film The Concessionaires Must Die, which is still pending release.  The new movie version of the classic Annie on the other hand was released a little earlier than intended.  The massive hacking of Sony Pictures lead to the film being leaked online a few weeks before the official launch.  Much of the world has already had the opportunity to sit in a cinema to watch it, with everywhere else seeing releases in the coming month or so.  TV viewers got to see Tracie in guest starring roles in the comedy show Veep and the… what ever it is… MTV show Catfish: The TV Show.  This year saw Tracie back treading the boards in the For The Record: Tarantino show, which show cased various musical numbers from Quentin Tarantino movies, as well as being the co-star in the new play Lost Lake, which came to the end of its run just last week.  As if that wasn't enough Tracie is to star in a new web series due to go into production next year called Send Me.  And she hosted the Second Annual Hero Awards Gala in September and was in another 24 hour play (that's 24 hours from initial idea to first performance, not a play that lasts 24 hours).  Got all that?
Phew!
See you next year.