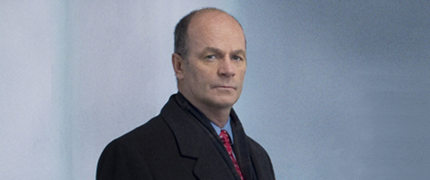 These short months are a pain!

  I have to get this written in less time.  Let's take a look at the continuing careers of the Cold Case cast for September.
Like the tense thrillers made there, Hollywood can take a long while to build up the tension before an explosive burst of energy with everything happening at once.  It's been over five years since the film Finding Steve McQueen (albeit with a different name then) made some significant steps towards becoming a reality, but in the last couple of months it all kicked off.  As I type the film is being made in Atlanta, Georgia.  Travis Fimmel (Vikings), Rachael Taylor (Jessica Jones), Forest Whitaker (The Last King Of Scotland), and William Fichtner (Prison Break) lead the cast in a based-on-true-events movie about the attempt to steal $30m from a secret fund held by President Richard Nixon.  Cold Case star John Finn (John Stillman in CC) will play W. Mark Felt.  Not a name I was familiar with but he is certainly a very famous man.  He was the Deputy Director of the FBI in the early 1970s and saw all the compiled information on the Watergate scandal.  In 2005 it was revealed that Felt was in fact the informant to the journalists Woodward and Bernstein, who referred to him as 'Deep Throat'.  No release date has been set so far, presumably it will be next year at the earliest.  Kate Bosworth (Still Alice) was due to star but as I was compiling this piece it was announced that Rachael would be taking the 'Molly Morphy' (not a typo) role instead.
Slipping out a few months earlier than expected and with little fanfare the Eddie Murphy vehicle Mr Church was apparently released a couple of weeks ago.  Thom Barry (Will Jeffries in CC) has a small role as 'Frankie Twiggs'.  Eddie is Mr Church, a cook taken on by a dying woman (Natascha McElhone, Californication) to look after her and her daughter (Britt Robertson, Under The Dome).  It was only supposed to be for a few months but continued a lot longer than that.  A schmaltz-fest no doubt.
This series of posts could be easily be renamed 'What's Tracie Been Up To This Month?' due to the sheer volume of content she provides on a monthly basis.  The woman's a one person entertainment industry.  Tracie Thoms (Kat Miller on CC) regularly makes guest star appearances on TV shows; takes roles in films, both long and short; and in amongst all that she finds time for singing engagements.  For the past few weeks Tracie has been in New York rehearsing for a production of the musical Falsettos.  It is a revival of a show that premièred on Broadway in 1992.  The opening night for previews of the new production was just last night (28th September) with the show due to open for general audiences towards the end of October at the Walter Kerr Theatre.  The run is planned to end in the new year.  Break a leg Tracie.
Which just leaves me to crowbar in another mention of the CBS TV series BrainDead.  The show came to an end, probably for good, a couple of weeks ago with a double helping.  The ending gave a possible opening for a second season with the character Danny Pino (Scotty Valens in CC) played taking a job on Wall Street.  No scope for skewering those in power there…  The season 1 (aka the complete series) DVD is expected to be released in early December in the US.