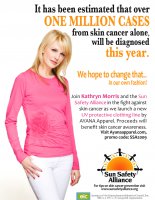 The Sun Safety Alliance (SSA), in collaboration with the Entertainment Industries Council, Inc. (EIC), campaign to promote UV protection awareness is definitely back on.
A print-based advertising campaign has just started with the image on the right (see the gallery for a large version) due to appear in various US magazines.  Apparently Victoria Magazine has already carried it.  Have you seen it?
There should be more to come from this campaign in the near future.  We'll keep you posted.
The SSA have teamed up with Ayana Apparel to create a range of UV protective garments, including t-shirts endorsed by Kathryn and the Desperate Housewives actress Andrea Bowen.
The earlier image from Kathryn's photoshoot has been replaced in the gallery by a larger, higher quality version.
Huge thanks to Larry @ EIC for his great help with this.