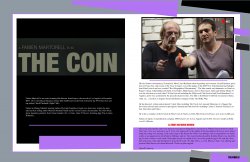 On Thursday Fabien Martorell, the director of the film The Coin, reminded us via Twitter that the short will be featuring in the Underexposed Film Festival in a couple of weeks.  KM UK covered the initial announcement previously.  Exact details of the screening will be posted here nearer the time.
I understand that The Coin will be shown at even more festivals in the coming months, both in the US and abroad.  KM UK will be reporting on those as soon as the news breaks.
In the meantime this is a good opportunity to bring to you a review by Darcell Carraway of LA Firm Inc Magazine of the 8 minute feature starring Kathryn, Christopher Lloyd (Piranha 3DD) and young Jack Ryan Shepherd.
"Kathryn Morris was electrifying…"
Los Angeles Firm Inc Magazine is an online and print publication that "cover[s]… all facets of [the] commercial entertainment industry" including fashion and movies.  Darcell is the CEO of Los Angeles Firm Inc, Editor In Chief of the magazine, and Creative Director of sister company Victoria Marie Fashion.  Darcell has very kindly allowed KM UK to host a high quality copy of the double page spread from the UK version of the magazine (see top right) for you all to see.  You can find it in the Gallery.  The article is primarily a profile of Fabien but ends with this glowing review of The Coin:
Not every critic has the same view and not every person doing films is cut out for it.  When I first sat down to watch The Coin, I was very anxious to see it.  I was very impressed by the quality of the presentation.  However, more importantly the acting was amazing.  I felt center stage at the theatre the whole way through.  Our recommendations are based solely on our appreciation for effortless brilliance and art.  The crazed mother played by Kathryn Morris was electrifying for lack of better words while Christopher Llyod [sic] was stellar in his role as the guardian angel.  We rank this short film with some of the elite blockbusters from the 80's and 90's like 48 hrs. or even Misery.  I find a very alluring and passion filled director in Fabien Martorell.  Classic in plain english [sic].

Darcell Carraway
Many thanks to Darcell for his generosity.  You can find out more about LA Firm Inc Magazine via their Facebook page HERE.