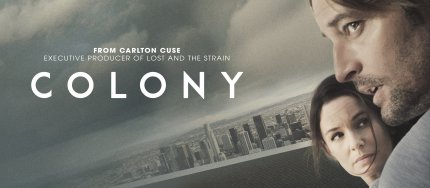 I'm going to state up front that I am not sure if this is a new thing or not.  I may have not noticed this before because I haven't been keeping a close eye on such things.
Tomorrow (15th Jan) Pick TV in the UK is showing the USA Network sci-fi-ish drama series Colony from episode one.  It starts at 10pm.  This could very well be a première for the channel.
Pick is one of Sky Televisions many channels, it used to be called Sky 3, and is available on the British free-to-air Freeview system as channel 11.  The schedules are largely made up of slightly older show repeats.
For those that haven't been paying attention, Colony involves a near future Earth that has been invaded by an alien force.  They have contained what is left of the human population inside massive walled city 'colonies'.  People are largely free to go about their lives but are under constant surveillance and will be banished to 'The Factory' for disobedience.  The show focuses on one particular family headed up by Josh Holloway (Lost) and Sarah Wayne Callies (Prison Break).  She runs a bar in Los Angeles and he is an ex-FBI agent recruited by the 'powers that be' as part of a human law enforcement team working on behalf of the aliens to root out rebellious elements.  Only, he's not entirely loyal to his employers.
We only really covered season 1 here on KM UK because that is the one Kathryn starred in.  Her character of Charlotte Burgess, the wife of a Adrian Pasdar's (Heroes) ambitious (and keen to stay alive) politician, was in just 3 episodes (plus a few 'previously on' flashbacks).  We have lots of Gallery content to enjoy.
Colony first aired in America in very early 2016 and came to the UK on Sky 1 in April of that year.  A DVD release came not too long afterwards.  Since then the show has had two more seasons, with a major shift in setting for the 3rd, but it was cancelled last summer.