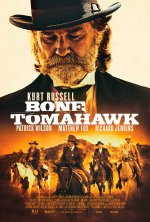 Following on from our post on Thursday about winning Bone Tomahawk on DVD/Blu-ray, how about a signed poster.
Horror news website Dread Central has such a work of art signed by various members of the success western.
Actors Kurt Russell (Death Proof), Patrick Wilson (Watchmen), Matthew Fox (Lost), and Richard Jenkins (Six Feet Under) have taken pen to paper along with writer/director Craig S Zahler, and producers Dallas Sonnier and Jack Heller.  Sadly Kathryn is notable by her absence from that list.
All it takes is a properly subject-lined email sent to the correct address with your details.  No question to answer, no "reason why I should win" sentence to write, or special slogan to create.  Just an email.  You have until the very start of the day on the 28th of December, taking into account the timezone.  Get it done before the 27th to be safe.
Unusually for this kind of thing it appears not to be limited to only those in North America.  At least if the asterixed line at the bottom of the page "Some International Shipping Available" is to be believed.
See the Dread Central page here.