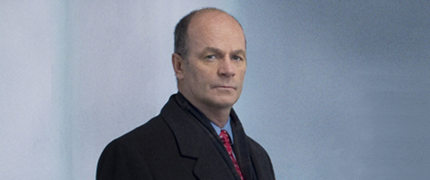 England actually had something that could really be called a summer.  It was seriously hot for a couple of weeks.  It being July, the entertainment industry is relative cool on the news front though, but here is the latest update on the Cold Case cast members that aren't Kathryn.
John Finn (John Stillman in CC) has been announced has a significant new cast member of the long-running AMC series The Walking Dead.  Season 9 starts in October and is due to see some major changes in the acting line-up.  John will play Earl, a blacksmith, and Brett Butler (Grace Under Fire) will be his wife Tammy Rose.  Minority Report star Samantha Morton also joins the show as the leader of a new faction.
These round-ups are collections of news from the just-ending month.  They are not exactly 'breaking news' but we appear to have done just that in the June edition.  A few hours before posting the previous CCCC-up, Danny Pino (Scotty Valens in CC) announced on social media that he would be starring in the 3rd season of the Netflix comedy One Day At A Time.  It was a couple of days before the more traditional news media picked up on the story.  Yeah us!  Later in the month it was confirmed that Stephanie Beatriz and Melissa Fumero from Brooklyn Nine-Nine will also guest star, alongside singer Gloria Estefan.  The show returns in 2019.
Just over a month to go until the new FX series Mayans MC debuts and a trailer has been released.  See it HERE on YouTube.  Danny stars in the spin-off of Sons Of Anarchy. It will launch on the 4th of September.
We've been mentioning the movie The Basement now since 2016.  The Mischa Barton starring horror/thriller, which includes Tracie Thoms (Kat Miller in CC), has had a tortuous (pun intended!) history but in April it was given a September release date.  We now know it will get a theatrical (as in, in cinemas) outing and be made available on VOD services on the 15th of September.
Back in March Tracie's episodes in season 3 of UnREAL appeared on the Lifetime channel.  By then it was known that there was only to be one more season of the show and that it had already been filmed.  It is not expected to be broadcast by Lifetime until next year.  However, it was also said that the streaming service Hulu would release the show before then.  Much to many peoples' surprise that happened a couple of weeks ago.
Speaking of Hulu, they have a new original drama series called The First due to start in mid-September.  The 8 parter is about the first manned mission to the planet Mars.  Channel 4 in the UK are also involved so it is likely to get a release here on that station.  The show is by the House Of Cards creator of Beau Willimon.  Sean Penn (Mystic River) and Natascha McElhone (Designated Survivor) lead a cast which includes Melissa George (Alias).  Tracie is down as being in two episodes.  There is a trailer for the The First HERE on YouTube.
We don't often get to mention Jeremy Ratchford (Nick Vera in CC) in these CCCC-ups.  This one is no exception but he did get his own special post at the weekend due to an interview he'd done in which he mentioned Kathryn in a couple of his answers.