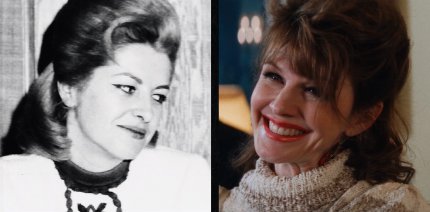 Is it time to dish the dirt on The Dirt?
Not really.  I've not exactly watched the film and I've definitely not read the book it is based on, and my knowledge of Mötley Crüe is minimal.  I'll leave the reviews to those better qualified than me.  Google will provide you with plenty if you want to read some.  I will say that the film has got very mixed reviews.  Did it go too far?  Did it not go far enough?  Is it a faithful recreation of the source material?  Is that biography actually accurate?  Does it matter?
Let us instead focus on the reason we're here:  Kathryn Morris.

As far I can find there was never any news chatter of Kathryn taking a role as the Deana Richards, mother of Mötley Crüe bassist Nikki Sixx (real name Frank Carlton Serafino Feranna, Jr.), in this film.  It definitely took us by surprise.  The project has been in the planning since shortly after the book was released in 2001, with various directors and actors attached to it over the years.

Kathryn essentially has three distinct scenes in the film.  She appears for the first time by the end of minute 3 as Nikki sets up his early days with an abusive father and an uncaring mother (above left).  Immediately jumping forward a few years, dad is gone and mother is looking for answers at the bottom of a bottle with which ever man she's recently picked up (right).  Nikki is acting up with loud music, provoking an argument with Deana which results in the police being called.  The issue is resolved without an arrest but Nikki makes his attitude towards his mother very clear (below left).  That's all before 7 minutes in.

Our next sighting of Kathryn is just past the hour mark.  Nikki and the Crüe are rapidly heading towards (no pun intended) rock bottom.  Attempting to calm things down the group's manager brings Deana to meet Nikki.  It doesn't go well (top).  And that's all she wrote.
So, we get Deana in three time periods, meaning we get Kathryn with three different looks and many different emotions.
There are now over 140 Full HD (1080p) screencaps from Kathryn's scene are now in the KM UK Gallery.