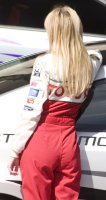 If only!

Some how Kathryn managed to get herself caught on camera multiple times, in and around two completely unrelated events, on opposite sides of the Atlantic, in two separate episodes of TV "show" The Girls Next Door.  She must have thought Hef was stalking her!  So far we've seen no signs of any offers being made to pose for a certain magazine though.  Drat!
The first of the two episodes (S03E12 – Dangerous Curves) is set around the annual Toyota Pro/Celebrity Race held in Long Beach, California as part of the Grand Prix weekend.  Kathryn was invited to take part (in the celeb category of course) in the early 2007 event.  We get to see Kathryn several times in the background as the drivers (including Emily Procter, Robin Quivers and George Lucas) receive training and on race day itself.  Lots of great photos can be found in the gallery of Kathryn on the training course, at the press day, at a Gala event, on race day (a particularly fine example of which can be seen to the right).  However, the screencaps from the show are not so good being small and low quality.  The event must have had quite an impact on Kathryn though because she has taken an interest in motorsport, including investing in the Pole Position Raceway kart track.
The second episode (S04E06 – The Full Monte Carlo) sees the "stars" of TGND attending various functions at the Monte Carlo TV Festival later in 2007 promoting Cold Case to European networks.  Again, Kathryn is caught on camera a few times in the background at a couple of these events.
As a male of the species I feel that I'm expected to like the show TGND and its "stars", but I don't.  I just can't.  There are few shows I'd like to watch less in fact.  The "stars" (and yes, I keep writing it like that to be condescending) are just so… annoying.  One of the girls actually uses "air quotes" when describing Prince Albert II of Monaco as "royalty".  He is royality!  That's what the "Prince" part of his name is about!
Anyway, onto the proof that beauty and brains are not mutually exclusive: screencaps and video clips of Kathryn's very brief appearances in both episodes are now in the Gallery.