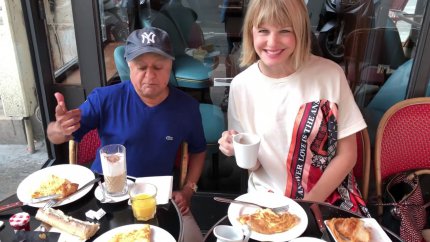 To say the least, a recent post here (well, HERE) on KM UK had us a little confused.  It involved a video of Kathryn having breakfast with someone at a street-side café in Paris.  No context, no date, no name, no pack drill.  There was scrambled eggs and coffee though!
Since then we've been contacted by a trusted source in France regarding the reason for Kathryn's unexplained appearance in Paris.
A little background.  Two years ago, a Mr (let me check my notes…) Donald J Trump (President of America apparently) got the U.S. to withdraw from the Paris Climate Accord.  This was a global agreement to cut CO2 emissions.  All the nations of the world had signed up to it, apart from a couple of cheeky hold-outs that wanted it to go further than it did.
However, it looks like some facts have finally manage to penetrate deeply enough to make Mr Trump reconsider his country's position.  That and the personal financial loss of his Florida-based private club Mar-a-Lago being due to disappear underwater in the next 20 years.  Try as he might, Mr Trump could not get the local zoning commission to declare the property as a 10,000 sq mile (there'd be no wall to say where it ended!) luxury water park, marina and yacht club.
But how does a man of Mr Trump's international standing and reputation go about reversing such a major decision whilst saving face?  We have been informed that a plan was put in place last year.  What he needed was a completely believable and credible envoy to act on his behalf.  Someone that could remain detached, whilst dropping a metaphorical pebble of change in the actual warming oceans.  Project Aloof Ripl (txtspk for ripple) was initiated and Kathryn agreed to take on the momentous role, travelling to France to make contact with the powers that be in Europe.
Information passed to KM UK suggests that the video posted on YouTube was a coded report back to Mr Trump.  The man eating breakfast with Kathryn is her Paris contact known as Little Chef.  The fact that it was sunny and Kathryn was wearing a t-shirt, despite being filmed in February in the depths of a French winter, is a message home that the scientific evidence on temperature rises has been proven to be correct.  The references to how much more good food you could get for €12 in Paris than for the equivalent amount in Los Angeles, is to indicate that the economic issues for the U.S. are not as bad as were feared and the French suggested solution is workable.  The croissant was just a croissant.
As far fetched as this all might sound, let us just hope that there is truth behind it.
Update:  Yes, this was my annual attempt at upping the silly on this site for April Fools Day.