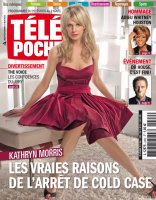 Yet again the French nation is putting the rest of us (this site excepting of course) to shame in their visible love of Kathryn and Cold Case.
There have been many articles published in the past few weeks on French-based TV news websites that, I think, are declaring the current broadcasting of Cold Case season 7 on the France 2 channel a big hit.  If rough translations are accurate it looks like Cold Case is getting substantial audience figures, being amongst the highest rates shows in the country.
This article from early Feb puts it 2nd with over 5.5 million viewers.  By the end of the month it is in first place with over 6 million.  A third piece from last week says 7 million.  Each suggests an audience share of 20% or more.

January and February saw Kathryn starring on the covers of several French TV magazines.  Sadly they are not new photos and I don't think their is much new content inside either.  Oh well, it is good to know that the publishers think Kathryn is a good bet for drawing the punters to their wares though.  Of course she is, she's gorgeous.

A February Télé Poche cover (above right) declares in its headline "The real reasons for the ending of Cold Case" (or words to that effect).  A Télé Z magazine from January (see left) goes without a statement and just sticks with a picture, the head and shoulders of the same picture in fact.
As well as those two recent magazine covers, we have one more from a year old Télé Z (see right) now added to the Gallery.
Au revoir.