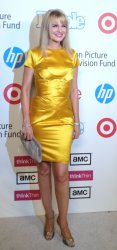 The recent update of the Official KM website brought to light a couple of public appearances by Kathryn that had got by us all.  The occasions themselves passed with little note by the wider press too, perhaps overshadowed by the main events they are linked to.  No information, such as basic when and where, was given about the two photos.  KM UK can fill in the blanks for you all.
The website captioned the photo you can see on the left "Babies' First Premiere!"  It is amazing how many errors you can make in just three words.  The apostrophe was right though, so score one for punctuation.  Kathryn in her golden dress was at the annual MPTF "Evening Before The Primetime Emmy Awards" event.  In 2012 it was held on 21st of September.  So… not a première, and as it was 11 months ago the "babies" part is a bit of a stretch too.
Moving on to number two, eyes right.  This is from another MPTF event, this one is called "Night Before the Oscars".  It is also an annual event held before a big awards ceremony.  This year the Oscars were on Sunday the 24th February so this appearance was on the 23rd.
The MPTF, or Motion Picture & Television Fund is a charity aimed primarily at helping members of the entertainment industry who fall on hard times.  Unlike many professions TV and movie jobs, both in front of an behind the camera,

are short term and lacking access to health care schemes available through employers.  You can read more about the work of the MPTF on their website here.
The pre-Emmy and pre-Oscar event photos are now in their respective albums in the Gallery.
I'll sneak in one other quick update, which would have been more appropriately posted in yesterday's photoshoot addition.  It's one more photo from what we call the "Official website photoshoot".  A larger version of the image you see on the right has now joined its own kind in the Gallery.