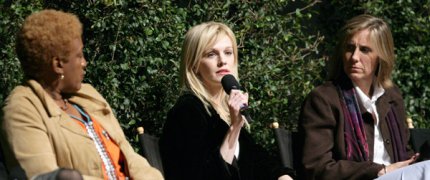 When I looked at posting a photo update for an old event I realised that I had never actually posted about this particular one before.
Way back in the very, very early days of KM UK there was a large image update to mark the opening of the Gallery which included a huge amount of event photos.  Basically my whole collection as it stood at the time.  Since then I've done updates to those where I can.
The Academy of Television Arts & Sciences Presents 'Women in Prime' event from the end of March 2006 was one that was included in that initial drop and has not been posted about since.
As you can see from the photos Kathryn was not only part of the usual red carpet line-up but also was a participant in a discussion panel which included ladies such as Angela Lansbury (Murder She Wrote, which Kathryn worked on twice), CCH Pounder (NCIS: New Orleans) and Jeanne Tripplehorn (Sliding Doors).  Not sure having the event moderated by a man (Jim Longworth) was the best move from an image point of view though.
There are a few short videos of Angela and CCH from this on YouTube but none that I've found include Kathryn.
I have now added 5 new photos to the 24 existing ones from this event to the KM UK Gallery.  If you haven't seen them before then do check them out.  Kathryn looks very sweet in her cropped tartan trousers.