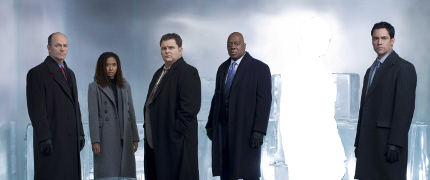 In hindsight (such a wonderful thing) this was always going to be the first really difficult entry of the Cold Case Cast Catch-ups to fill since lockdowns started.  Up until now TV shows have largely been continuing to be broadcast as normal.  The main series will have filmed most of their footage for the season prior to shutting down production.  It is May when those shows come to an end.
The difficulties will likely be felt as we get towards the end of the year.  With production traditionally starting in the summer, so episodes to get them through to Xmas are 'in the can' prior to the new season premièring in the autumn/fall.  Just how much can be done, even as restrictions lift?  I would assume that the plotting and scripting will have continued as before, but will they need to be re-worked to take into account social distancing?  Productions could try and take extreme quarantining measures but I can't see that working outside of a few small film shoots.  Certainly not for network television.
So, with all that said we really don't have much to report at all about the on-going careers of the Cold Case cast this May of 2020, because at the moment those careers are on pause.  I've used the 'everyone' banner above as it didn't seem right to pick out an individual.
As mentioned last month, Tracie Thoms (Kat Miller in CC) was in the final episodes of the hit drama series 9-1-1, which aired in early May.  It ended with Connie Britton (Spin City) returning to the show in a one-off guest star role, having played one of the main characters in the first season.  That first season was quite short (not uncommon with new shows) so, as it stands Tracie has been in more episodes than one of the leads!  The show also brought in Brooke Shields (Suddenly Susan) as another guest star.  It looks like she could well return in the next season.
During these interesting times many celebrities have been doing things online to keep themselves occupied and provide everyone else with a bit of entertainment and distraction.  One creative effort involved a lot of people we all see in TV shows and films but rarely know we're seeing them: the stunt people.  One of the best known female stunt performers is Zoe Bell.  She took Lucy Lawless's place in most episodes of Xena: Warrior Princess.  Zoe has also made a successful switch to being the visible face of someone on screen, acting in several roles.  One such part we discussed in many CCCC-ups was her lead role in the film Raze, which co-starred Tracie.  Zoe, many of her fellow stunt women and lots of actresses filmed a lengthy fight scene all done with much social distancing.  Each star appeared to take a punch or kick from the previous person through the camera as it were, get back up, and retaliate to the camera.  This would then pass on to the next.  It was known as the Boss Bitch Fight Challenge and a massive cast, each on screen for just a few seconds.  Tracie, of course appeared with Zoe, Lucy, Kim Murphy (Cold Case, 'Baby Blues'), Dayna Grant (Xena: Warrior Princess), and KT Tunstall (Cold Case, 'Running Around' soundtrack).  And those are just the ones we can link directly to Kathryn through work.  There was also Halle Berry (Catwoman), Florence Pugh (Little Women), Drew Barrymore (Charlie's Angels), Zoe Saldana (Avatar), Cameron Diaz (The Mask), Scarlett Johansson (Lost In Translation), Margot Robbie (Birds Of Prey), Juliette Lewis (Cape Fear), Rosario Dawson (Rent), Daniela Ruah (NCIS: Los Angeles), Daryl Hannah (Splash), Rosie Perez (It Could Happen to You), Thandie Newton (West World).  There are more names, but frankly I've padded this article enough with that lot and you get the picture.  You can watch the whole five minute long video on YouTube HERE.
Tracie, later in the month took part in a script reading for the three-day long Chattanooga Film Festival.  Yes, Chattanooga is a real place.  Who knew?  As they can't hold a normal film festival, this one went online.  Tracie and a group of other actors were in a segment called 'Scripts Gone Wild' and they read John Carpenter's classic horror film The Thing.  Presumably this was done via Zoom or Skype.
I did Tweet about this last week to let a few of my fellow UK residents know about this if they didn't already.  The second season of the show Mayans M.C., which stars Danny Pino (Scotty Valens in CC) in a large ensemble cast, started airing on the BBC on Sunday nights last.  Two episodes are shown back-to-back each week so the 10 episodes will go by quickly.  However, all 10 are immediately available on the BBC's iPlayer platform, as is the whole of season 1 for those wanting to catch-up.  This is a CC catch-up post after all!
We sometimes stretch our Cold Case cast remit to include a few other significant figures from the show.  One of them is writer/director Veena Sud.  Veena has been mentioned a few times recently as she created a 13-part long drama called The Stranger for the new mobile video streaming platform Quibi.  The parts is a lot, however, one key feature of Quibi is that each individual video has be no longer than 10 minutes.  The system and The Stranger launched in April.  The reason for mentioning it again is that in the past week the show and the two leads Maika Monroe (Independence Day: Resurgence) and Dane DeHaan (The Amazing Spider-Man 2) have been put forward for the Primetime Emmy Awards.  Quibi has submitted 19 shows and a number of actors for consideration.  Amongst them is Anna Kendrick (Pitch Perfect) and her show Dummy, which is difficult to describe in this forum.
We wish all the Cold Case cast and crew the best, hoping all stay safe and well and can get back to doing what they love as soon as possible.