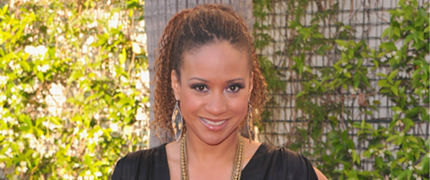 As the 'you know what' issue lockdowns start to ease in some parts of the world TV productions could start to pickup the pace.  However, in the normal annual process the production process tends to be slowing down around this time of year.  This was always going to make this month's Cold Case Cast Catch-up a bit tricky to fill as we look at the on-going careers of the Kathryn's co-stars.  We'll do what we can to pad this out though.
We always like to give the guys a shot at getting the top billing in these monthly posts because, frankly, they don't stand much a chance against Tracie Thoms (Kat Millar on CC).  Positive discrimination only gets you so far.  We just have to bow down the one-woman entertainment industry that is Tracie.  She is not really able to do her regular stage performance at the moment but she is putting in the hours on the TV sets.  In the past few weeks Tracie has been back on the small screen in two episodes of the multi-emergency service Fox drama series 9-1-1.  In this program Tracie is the partner of one of the main characters, which could be a small role but has netted her 25 appearances in 3 years.  9-1-1 has been successful enough to have branched out with spin-offs.
Speaking of which, Tracie was again in an episode of the Grey's Anatomy spin-off Station 19, which is is drama set around fire station.  This looks like a very timely episode as it revolves around the death of an unarmed black man.  Tracie's Dr Diane Lewis returns for a third time as a counsellor for the team.
Sticking with Tracie she is also doing her bit to support a good cause.  On May the 20th, she will be one of the many special guest stars at the Breast Cancer Research Foundation's 'Virtual Hot Pink Evening'.  Liz Hurley is set to host dozens of famous names including Sir Elton John, Neil Patrick Harris (Doogie Howser, M.D.), Edie Falco (Nurse Jackie), Gayle King (CBS News), Adam Pascal (Rent), and Paul Shaffer (Late Show with David Letterman).  You can read more about the event HERE.
Danny Pino (Scotty Valens in CC) continues to appear in the FX network drama Mayans M.C. The third season started in mid-March and the show is set to continue for a couple more weeks.
Stretching our reach a little further than normal, as we do occasionally, we follow up on a story from our January 2021 CCCC-up.  Back then it was announced that the short-lived, short-form, mobile video platform Quibi's content has been purchased by streaming platform Roku.  Recently the news was released that the various shows would be branded Roku Originals.  On the face of it it sounds like a slightly cheeky name, considering they'd bought it from someone else.  However, apparently their are quite a few shows that were never released by Quibi.  We mention this because Cold Case writer and producer Veena Sud created a show for Quibi.  It did make it out during the life of the platform, but will be available free on Roku this year.