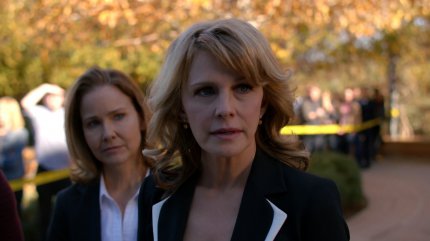 We reach the end of our own little season 2 of Reverie, as we looked back at last year's only run for the show.  We did so in style, though, with loads of great new full HD screencaps and some embiggened promo photos.  Some of those images were more than double the size of the earlier versions.
Along with our new high quality, 1080p screencaps from this finale episode, we have another set of absolutely huge promo photos.  We are seeing out KM UK's Summer Of HD for 2019 with a bang!
'Point Of Origin' was primarily about Oliver, the ex of Alexis (played by Jessica Lu), trying to bring down Onira-Tech and the VR tech.  Monica (Kathryn) turned all TV FBI agent, putting on the body armour and wielding a torch with intent.  It looked like the Cold Case sequel we were half expecting.
We were left with a fundamentally happy ending but there was a twist.  There's always a twist in case of a second season being commissioned.  Paul (Sendhil Ramamurthy) told Mara (Sarah Shahi) that the VR system showed her, Mara, as still in Reverie.  Was Mara still in there?  If so, then the reality we were watching was brought into question.  Could some remnant of Mara's avatar still be running in the system as an A.I.?  Maybe, but that is hardly a thing to worry about, just turn it off.  My feeling was that the unconscious Oliver had either been put in the Reverie as a punishment (I'm looking at your Monica!), or he put himself in it during the fire and got his wires crossed with Mara's reverie and was now stuck in there.  That's my best guess.
All five of the promo photos we have for this episode have been supersized.  As before I have added them as extra images (6 – 10), rather then replacing the existing ones (1 – 5), to give you the choice.  Keep clicking through an image to get to the full-sized version.  And, a year on from the original air date we have nearly 100 new full HD (1080p) screencaps from the season finale of Reverie are now in the KM UK the Gallery.
At least we got to enjoy a second season (another summer) of Reverie.