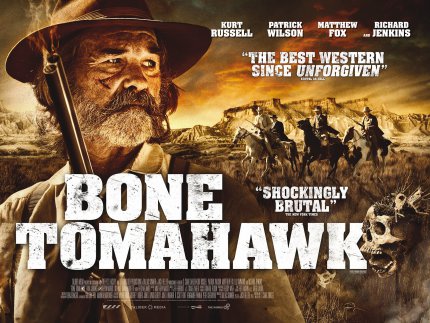 When I were a lad we didn't have any of these fancy streaming services.  No, if you missed a movie at the cinema you had to wait a couple of years before it became available on VHS cassette.  Or, another three or four before one of the handful of available TV channels would deign to a broadcast it.
Nowadays sometimes before a film is released in the picture houses you can legitimately watch it in your own home on TV or laptop, or even on the bus on your phone.  Kids today don't know they're born…

Last week the Internety movie playing thingy Netflix made the horror western film Bone Tomahawk available to UK customers via that system of tubes.  If you are a subscriber you can now watch Kurt Russell (The Thing) as the Sheriff set out with a disparate and somewhat desperate band of men (Patrick Wilson, Matthew Fox, Richard Jenkins) to rescue some townsfolk from the clutches of a pack of cannibalistic Troglodytes.
And if that doesn't get you in the mood for Xmas then frankly I don't know what to suggest 

Kathryn has a small role in Bone Tomahawk as Kurt's wife.  A couple of scenes show how close they are how concerned she is about him returning safely.
Looking back a year I can see that almost to the day I posted about Bone Tomahawk being due for imminent release on DVD and Blu-ray but acknowledging that all the film world could talk about was Star Wars.  How times have changed…