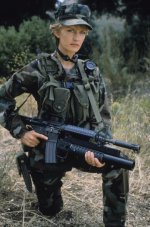 Pensacola: Wings Of Gold, the CBS network action series revolving around a team of elite soldiers, is 21 today.  Happy Birthday P:WOG!
The show débuted on the 15th of September 1997 and went on to have 3 seasons with a total of 66 episodes.  Kathryn was only the first of those annual runs as much of the cast was changed for season 2.
Last year's celebratory post here on KM UK went down the route of the materials used to mark wedding anniversaries.  In the modern list 21 years is nickel or brass.  Nickel clearly has links to the US.  Throw the word 'top' in front of 'brass' and you've got a military hierarchy reference.  This stuff writes itself!
For more details on the series and Kathryn's role in it, see that article from last year. and other P:WOG posts.
To mark this significant event I've added a load of new P:WOG content to the KM UK Gallery.  We've got promo stills and photos, various miscellaneous images (DVD covers, signed photo etc.), and a few small videos.  Check them all out in the Pensacola: Wings Of Gold section of the Gallery.