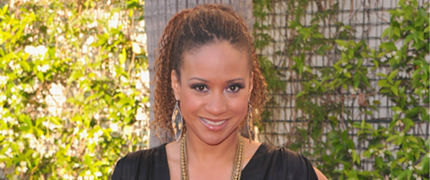 Phew!  Nearly missed it.  These 30 day months are tricky little beggars.  With the fall (autumn) TV season having now started in the US things are a little quiet on the news front.  We'll do what we can to bring you the latest news of the other Cold Case cast members, but it looks like we'll be largely relying on Tracie Thoms (Kat Miller in CC) to help fill this month's report.
Tracie returned to the Fox emergency service-based series 9-1-1.  The second season opened with a two-parter which started last Sunday (23rd September) and continued in the show's normal slot on the following night.  It was that latter half that featured Tracie and she is set to continue in episode three tomorrow.  A major change for the new run of the drama is the addition of Jennifer Love Hewitt (Ghost Whisperer) to the cast.  It is Jennifer's first major role since a season in Criminal Minds.  Her character is helping to fill a gap left by Connie Britton (Nashville) who only had a single year deal, which is unusual in this industry.  Apparently Connie could return as a guest in the future though.
I won't go into detail as they've been covered before, but in September Tracie also saw the release of the Hulu series The First and the horror movie The Basement.
In a similar vein I'll quickly mention that Danny Pino (Scotty Valens in CC) returned to the small screen in Mayans MC earlier in September.
A quick reminder that John Finn (John Stillman in CC) stars in the new season of The Walking Dead which starts next Sunday (7th October).
Although the focus of these posts is the main cast of CC that aren't Kathryn, we do occasionally stretch our remit a little to include other people connected to the show.  As the creator, writer and executive producer Meredith Stiehm is very much one such person.  After holding similar positions for the US version of The Bridge and early seasons of Homeland, Meredith seems to have taken a step back from the coal face to work within the Writers Guild Of America.  The typewriter is going to be dusted off soon though as it has been announced that Meredith will be adapting Cristina Alger's 2018 hit book The Banker's Wife into a drama series as well as exec producing.  The project is being lead by actor Rosamund Pike (Gone Girl) who will star and also produce.  Apparently the plot revolves around two women searching for answers in the world of finance after a plane crash raises serious questions.  Things have only recently been started on this so it will likely be a while before we hear more.