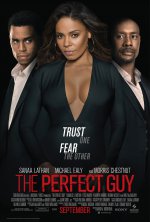 I fear I may have missed the boat by a couple of weeks again.
It has come to my attention that the relationship-gone-wrong thriller The Perfect Guy is being broadcast in the UK on the Sky Cinema Crime & Thriller channel.  Normally I focus on Freeview, but thems the breaks.
For reasons unknown 'Sky Cinema' replaced 'Sky Movies' as the general name for the satellite network's film channels.  Personally I thought movies covers the world of films far better.  'Cinema' implies you are attempting to replicate the cinema experience.  Which they won't do.  Hardly a forward thinking approach in this multi-screen, multi-platform digital age.
I digress.
Earlier today (15th September 2016) the Crime & Thriller channels showed The Perfect Guy.  It will be on again next Tuesday (20th Sept) at the rather tame time of 1:30pm.  Perhaps the scheduler doesn't understand the irony embedded in the title 

The film will never go down as a classic of the genre but you can't say it wasn't a success.  The lead actress (Sanaa Lathan) won a couple of award for her work.  In it's opening weekend in America it made more than double the production budget.  A little bit more is required for a film to be considered a real financial winner.  However, by the end of November 2015 it had reached more than 4 times those initial costs, and that's before the international markets and DVD sales are factored in.  That is why there have been several other, very similar films made already.  The studio behind The Perfect Guy, Screen Gems (a division of Sony Pictures), just last week released When The Bough Breaks.  It also stars Morris Chestnut, this time with a very Sanaa Lathan-looking Regina Hall.  The poster's not a world away either.
I digress, again
Kathryn has a small role in The Perfect Guy as a close friend of Sanaa's Leah.  Her motherhood get Leah's biological clock striking the hour gong loudly.  Later they meet for drinks a couple of times. I've covered it several times on this site, notably in our review (including HD images) of the film HERE focusing on Kathryn.  The red dress is worth the price of admission alone 😀
Catch Kathryn in The Perfect Guy on the Sky Cinema Crime & Thriller.  Set your Sky+.