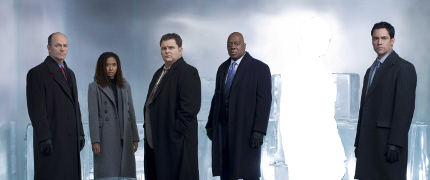 After a lengthy gap, extended due being caught out by the mere 30 days in September, the look at the on-going careers of the Cold Case cast that aren't Kathryn returns.
What order to talk about them?  Let's go left to right in the image above.
Not seen any news on John Finn (John Stillman in CC) this year.  He has a habit of cropping up in something, including various Irish dramas, so as the world starts to open up again it can't be long before we hear from him.
I have a feeling that Tracie Thoms (Kat Millar on CC) might be taking a lot more column inches than John.  She usually manages to outdo everyone due to the incredible breadth of work she does.  Over the summer Tracie continued her guest starring role in the cross-emergency service Fox drama series 9-1-1.  Like everything, production was effected by you-know-what, causing season 4 to start late, have a short run, and end late.  This meant that the season 5 première came around very quickly.  Tracie reprised her role as Karen Wilson, the partner of one the main characters.  That aired in late September.  I don't think Tracie's been back since but it is bound to happen soon enough.
Similarly to 9-1-1, Tracie has a recurring role in the ABC drama series Station 19, which is a spin-off from Grey's Anatomy, based around a fire station and its crew.  As we touched on in a previous CCCC-up, Tracie was in an episode early in the summer.  She returned a week or so ago for the 4th episode of season 5.  Her character is a counsellor helping the fire fighters deal grief etc.  Another role that will be revisited I'm sure.
A new bit of news is a new comedy film for Tracie called Paulie Go.  Principal on-location filming is said to have happened in 3 weeks spanning the end of August and into September.  The film is about a boy who travels across the country to meet a reclusive professor he feels is one of the few people that will understand him.  Jack Green writes/produces.  Director Andrew Nackman apparently worked on a 2012 short film called Paulie about a boy dealing with a bully.  The same actor, Ethan Dizon, is listed in the title character role in both films, which with a 9 year time gap is… interesting.
There aren't any significant updates on Tracie's other projects Bolivar and The Requiem Boogie.  Both are in 'post-production', which as we know can be a length process.  More on these when we can.
Next in the picture is Jeremy Ratchford (Nick Vera in CC).  Sadly we don't have anything new about the quiet Jeremy.  Unfortunately we find ourselves having to say the same thing for gentle giant Thom Barry (Will Jeffries in CC) as well.  If only he'd been in the Space Jam sequel… maybe not.
Which brings us to door number 5: Danny Pino (Scotty Valens in CC).  We know going in that there is at least one thing to say about Danny.  Back in May's CCCC-up we already reported that film-of-the-musical Dear Evan Hansen was set for launch this past month.  I think it is fair to say it was hotly anticipated by many fans of the stage production, and it is equally true that it appears to have had mixed reviews.  Generally positive, but projects adapted from stage to screen have to make changes to make the most of the medium, otherwise you might as well just point the camera at the stage, and that always upsets the purists.  The story is based around a mix-up when a self-help letter Evan Hansen (Ben Platt, who played the role on stage) writes to himself is found with a fellow student that committed suicide.   Danny and Amy Adams (Enchanted) play the dead boy's parents and Kaitlyn Dever (Last Man Standing) his sister.  Julianne Moore (Still Alice) is Evan's mother.
Over the summer, here in the UK, the BBC showed motorcycle gang drama, and spin-off from Sons Of Anarchy, Mayans M.C. season 3, which ended in the USA in May.  A fourth season is expected to air early in 2022.
July saw Danny have a small role in The Good Fight, the streaming service Paramount+ spin-off from The Good Wife, starring the always great Christine Baranski (Cybil).  It was in mid-5th season episode 5.  Not sure what the involvement of Danny's Ricardo Diaz was in the storyline.  The main action centred around a man suing a hospital for allegedly discriminating against his daughter, leading to her death.  It was a topical storyline about you-know-what.
In early August Netflix released a Sony Pictures musical animation called Vivo.  'Hamilton' star Lin-Manuel Miranda voiced the main character Vivo and also wrote all the original songs for it too.  Miami Sound Machine's Gloria Estefan also stars, and not surprisingly sings a lot too.  Danny was typecast again as 'bus passenger'!
Less than two weeks ago the NBC network's Law & Order: SVU hit the milestone of 500 episodes.  It was the 6th episode of season 23!  Shows like to do special things to mark such occasions.  After leaving Cold Case, Danny spent four seasons on SVU as Nick Amaro.  You won't be surprised to read that Nick returned for a special appearance, requesting the SVU squad help with an unsolved crime.  A cold case you might say.  After leaving the SVU Amaro joined (or maybe setup) a company helping in such cases.  The fact that he was well suited to such a position did not go unremarked by Mariska Hargitay's Olivia Benson.  Amazingly Mariska has been in all 500+ episodes of SVU, as well as guest appearances in the spin-off shows like Chicago P.D. and new one Law & Order: Organised Crime.  That latest variant see the return of Christopher Meloni as Elliot Stabler, a role he played in SVU for 12 years.