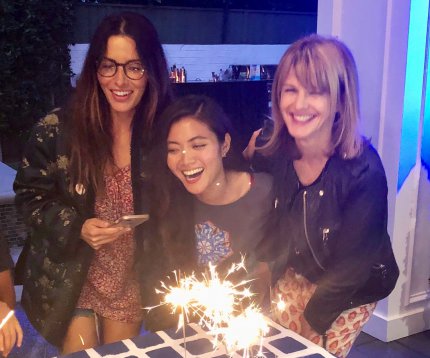 The above picture seemed to encapsulate the annual KM UK Xmas message for 2018.  The ladies of our year in a party mood.
Here is KM UK's quick look back at 2018.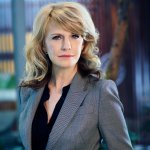 We came into 2018 with one goal: to see Kathryn return to the small screen in a drama series.
Almost two years ago the NBC television network commissioned a pilot to be made of the sci-fi-ish, virtual reality-centred show Reverie.  The news of Kathryn joining Sarah Shahi (Person Of Interest), Dennis Haysbert (24), Jessica Lu (Awkward.), and Sendhil Ramamurthy (Heroes) in the cast broke in February 2017.  A pilot episode was filmed in Vancouver, Canada, in March.  Reverie was initially expected to be part of the 2017-18 broadcast period after the show was 'picked up' to series in that May.
The excitement was tempered somewhat with the news disclosure that Reverie was to be 'mid-season' release of 10 episodes.  This meant waiting for another new show, or an old one, to be cancelled before the season was done so this new one could step in.  It's not an upcoming happening but what happens if there is no space made in the schedules?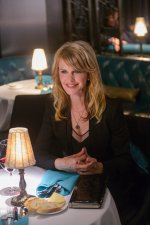 A sneaky peak at a promo video, and official posters declaring a March release, raised the mood for an early 2018 release.  We went in to the next year with a full list of episode titles and the news that filming had been completed.  In February 2018 we started the countdown to the première… and stopped it a couple of weeks later.
Reverie did get a screening in March, late March in fact, but it was at the WonderCon event in Anaheim.  By mid-April we had another release date of May 30th, some promo videos, and finally some promotional photos that included Kathryn.  The reverie could, at least, start!
Over the coming weeks we went through the rounds of promo videos and photos, press releases, and screencaps for each episode of Reverie.  Kathryn was not actually in every one of the ten.
And that, sadly, was largely it for 2018.  It was all about the Reverie.  Kathryn made no public appearances that we are aware of.
As we all aware Reverie is not returning for a second season so we'll have to look forward to other things, currently unknown, in 2019.  Join us on KM UK to find out what they are.
Happy Xmas to all our readers.