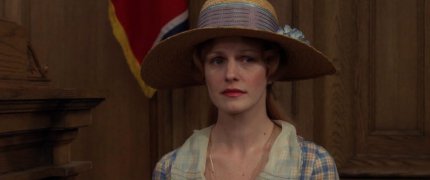 Was it evolution or was it "intelligent design"?  Schools and teachers being pilloried for explaining the science?  America in 2013 or 1923?  Some things don't change over time.
Inherit The Wind is a play written by Jerome Lawrence and Robert Edwin Lee.  It is based on the actual 1923 trial of a school teacher charged with teaching Darwin's theory of evolution to his class in contravention of state law.  He did so at the request of one of the students.  However, in the play the story is actually being used as a vehicle to discuss McCarthyism of the early 1950s. The play was first performed in 1955.

There have been many revivals of the play since that then and it's been made into a film four times.  The most famous celluloid version was the first.  Made in 1960 it starred Spencer Tracey (It's a Mad Mad Mad Mad World), Gene Kelly (Singin' In The Rain) and Harry Morgan (M*A*S*H).  Our interest though, is in the most recent version committed to 35mm with an equally all-star cast.
Jack Lemmon (Some Like It Hot), George C. Scott (Dr Strangelove), Beau Bridges (The Fabulous Baker Boys), Tom Everett Scott (That Thing You Do!), Lane Smith (Louis & Clark: The New Adventures Of Superman) and Piper Laurie (Twin Peaks) all bring their thespian talents to bear in a 1999 TV movie remake.  And who is that playing Rachel Brown, the young woman caught in the middle as the daughter of the local preacher and girlfriend of the educator on trial?  Why, can it be true?  Mercy me, as I live and breath, if isn't Ms. Kathryn Morris.