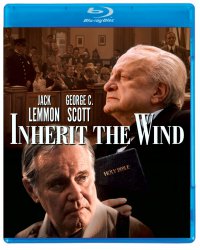 A new Blu-ray edition of the movie Inherit The Wind is set for release in the 18th of January 2022 by the Kino Lorber Classics label.
The film has been available as a DVD for a while, but I believe this is the first time it has been produced in HD.  According to the specifications this new release has a new commentary track by a pair of entertainment journalists and some trailers.
Be aware that there are at least two other film versions of what was originally a stage play  The most prominent version, which has even has a 4K Blu-ray option available, was filmed in 1960 and starred Spencer Tracey and Gene Kelly.  Another from the late 1980s featured Kirk Douglas.
The Inherit The Wind that we are interested in is the 1999 production starring Jack Lemmon, George C. Scott, and of course a certain Kathryn Morris.
No point in me repeating a lot of stuff about the film in this post when you can read all about it in a post 8 years ago HERE on KM UK.
A link to the Blu-ray on the Amazon UK website is HERE.  What is not clear from the page is if there are any issues with region coding.  I would hope they have left it as a universal disc.
For those on the other side of the pond, the Amazon US link is HERE.