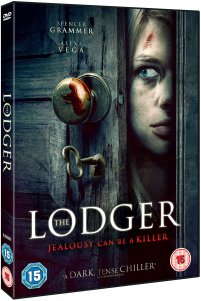 It only seems like days since the last DVD delay.  That time was only a few weeks ago.  This was is more like two years.
For some reason, best known to the gods of the movie distribution industry, the film we original came to know as 2Br/1Ba (short for 2 bedrooms, 1 bathroom) and was finally released as Roommate Wanted, has now been released in the UK as The Lodger.
It is not as though roommate is a specifically American term and the name required an English translation.  It looks like Frontline Home Entertainment have decided to try and re-brand the film as a horror film, rather than the dark comedy it really is.  As you can see from the DVD artwork on the right they've ramped up the 'here's Johnny!' factor.
A large copy of the artwork (see right), along with other lots of other 2Br/1Ba / Roommate Wanted / The Lodger related material, can be found in the Gallery.  Check out the second version of the DVD box graphics I found.  It is clearly an earlier version with the most obvious difference being the position of the woman's head in the gap.  Can you spot the mistake?
The film's gallery pages include the amazing on set video message that Kathryn record espescially for us here at KM UK.  Full details HERE.
The Lodger is available from Amazon UK HERE and a review by Phil Wheat at the Nerdly website can be found HERE.