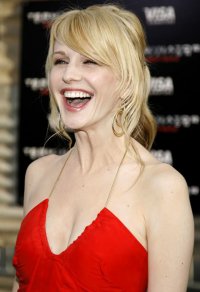 Told you "we'd be back!"  😎
The film studios made many returns to the Terminator franchise, and will no doubt be doing so again all to soon, so I think I can get away with making a quick second visit in as many weeks to the US première of Terminator Salvation.  The last time was here.
It is well worth doing so I'm sure you'll agree.
If you don't fall in love even just a little bit with Kathryn after looking at the picture on the right then you must be some sort of unfeeling robot.
Even people with those artificial hearts that mean you have no heartbeat must feel their pulse quicken at such a sight.
What could be better than seeing someone you like so much look so full of joy, whilst also looking so beautiful?  Nothing I tell you, nothing!
This time we focus on new close-ups and some videos.  Yes, I've added some short videos which include Kathryn on the red carpet at this event.  Don't forget the 4 new photos too.
They are all in Gallery now.
Like Hollywood, I can't promise not to come back to this one in the future, or is it the past?