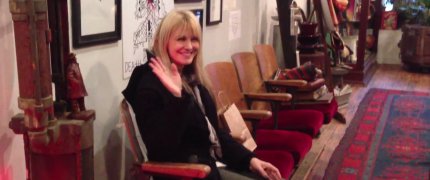 I've spent quite a lot of time the past day or so trying to work out how to approach this post.  I just couldn't seem to come up with a simple hook to get going.  So, let's start just go through the facts from the beginning.
The ever vigilant Kareen_T spotted Kathryn making an oh-so brief cameo in a video recently posted on YouTube.  The 5 minute long clip is of a clearly very talent musician playing the piano in a shop called Accident & Artifact in San Francisco, California.  The pianist's name is Srawat "Sunny" Promyotin, CEO of Black Media.
The piece Sunny is playing is the 7th in a series of improvised pieces with the collective name of The Perfect Note.  After Sunny completes his performance the camera pans around to find our favourite lady sat near by.  She smiles that wonderful smile of hers, waves to the camera, and claps.  What's all that about?  It is very curious.