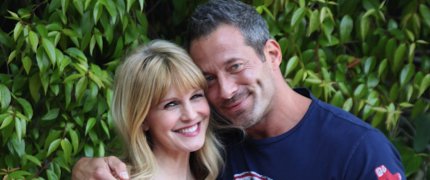 As reported here a couple of months ago, the Official KM Twitter feed had a brief moment of conciousness and posted something.  At the time we noted that the Official Kathryn Morris website had gone into "Under Construction" mode for a while and returned with little content.

Over night the Twitter feed again woke up, posting various links to the Official Facebook page.  Only one worked at the time I checked and it led to a post on the People magazine website about the upcoming birth of Kathryn and Johnny's twins.
Presumably following on from that friend of this site Kareen_T (thanks again!) spotted that the Official KM website has undergone a further update.  It is clearly far from ready for prime time, with layout issues and glaring errors carried over from its earlier incarnation, but it has gained a lot of new content.  I'll be posting more about some of that in the next few days.
The most notable item on the website is the Twins Shower page.  It is a Pinterest style page with various images, including illustrations and photos.  Taken from that set are the images you see around this post, including a sonagram image (right) taken back in February which is presumed to be a genuine shot of the Morris/Messner twins.  The other two images (one of which is huge!) have joined the Us Magazine set, even though they were not used by the publication.  They have all now been added to KM UK Gallery.