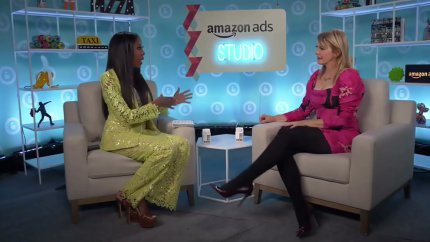 Kathryn's day in New York last October was slightly busier than we've so far been able to report.
As part of promoting her Savants initiative supporting and advocating for autism at the 2022 New York Advertising Week event, Kathryn was interviewed by Dhomonique Murphy for Amazon Ads.
At the same event the previous year Kathryn did an on stage interview.  This one was in a studio with no audience, which I think made it easier to give more detailed descriptions of her experiences.  For people that really care about Kathryn, in parts it can be a slightly difficult watch as you learn more about what she has been through, and continues to face, with her boys.  It sounds like they are developing well though.  Don't worry, we also get to see that amazing Kathryn smile we all love so much.
You can watch the entire 15 minute video on YouTube HERE.
A few screencaps of Kathryn from the video have been added to the Gallery.
Huge thanks to TJ for sending the details of this video to KM UK so we can share it with you all.