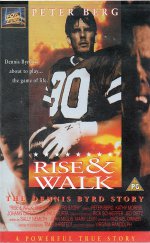 Late last night (15th October 2016) it was announced that the former American football player Dennis Byrd had died in a car accident.  Dennis had recently celebrated his 50th birthday.
Dennis was a successful player for the New York Jets in the late 1980s/early 1990s.  He had a long career still ahead of him when a collision with a team-mate on the field left him with a broken neck and temporary paralysis.  His prognosis was bleak, with doctors unsure if he would ever regain the use of his legs.  This was November of 1992.  However, at the start of the following football season he took to the field unaided as an honorary captain for the coin toss. He was never able to again play the sport he loved but his determination to overcome odds and learn to walk once more was a source of great inspiration to many.
Each year the Jets' team players nominate a team-mate to receive a Most Inspirational Player award created and named in honour of Dennis.  I'm sure the next presentation will take on particular significance now.  The team retired Byrd's shirt number 90 after his injury.
Dennis wrote a book, Rise And Walk: The Trial And Triumph Of Dennis Byrd, about his experiences.  It was published in 1993.  Dennis continued to work, coaching and giving talks about his recovery.
In 1994 that book was released as TV movie, with the slightly shorter title of Rise And Walk: The Dennis Byrd Story, starring Peter Berg as Dennis Byrd.  Kathryn, credited as Kathy Morris, played his wife Angela.  It was one of Kathryn earliest roles.
The film is something of a rarity, has never been released on DVD, and as such has never really been featured on KM UK.  Hopefully we can return to it in the future in more detail but, for now, I've opened an album in the Gallery for the film and got things rolling with some promos, stills, and the video box cover art.