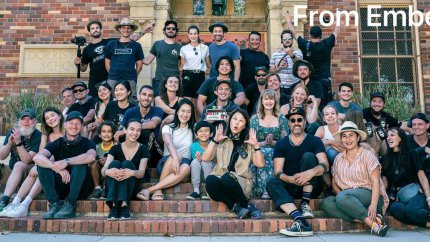 The entertainment industry news website Deadline broke the news that Matthew Morrison (Glee) and Kara Wang (Top Gun: Maverick "Top Gun: Maverick!") are headlining a new movie called From Embers.
As you will guess as it is being reported on this site, Kathryn has a role in the film.  Much like in the photo above taken on set, Kathryn's part is likely to be quite small.
From Embers, which looks like it was known as From Ashes until recently, is written and directed by Kate Bohan (Harper).  The plot involves Lily (Kara Wang) as a single mother dealing with the sudden and dramatic death of her husband, and trying to find out what happened.  Matthew Morrison is a neighbour, a father to a young teen girl, an artist, with his own struggles.  The daughter is played by Kate's own daughter Kayla, who has starred in Kate's previous films such as Harper.  There is an element of autobiography in Kate's work, as she lost her first husband.  Harper is based somewhat on her own life.
One thing that may have drawn Kathryn to this project is that Lily's son is autistic.  I am sure she is keen to see accurate and positive portrayals of people with autism in the wider media.
The film is now in post-production, having started filming in July and completed in October.  The process was interrupted for a few days in July due to the SAG-AFTRA strike action which halted so much TV and film production across the summer of 2023.  Some small independent productions were given waivers to allow them to continue though.  The union's issues were with the big studios and they recognised the impact that the shut-downs would have on those outside of those systems.  From Embers was granted a dispensation with an "Interim Agreement".  You may have noticed over the summer a lot more film directors giving interviews about their latest movies and actors only talking about specific work, and not allowed to discuss other projects.  This was part of these agreements with the unions.
Here on KM UK we will certainly be tracking the progress of this film in the coming months.
You can read Matt Grobar's piece on Deadline HERE.