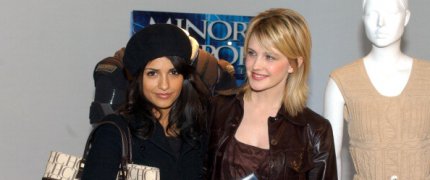 Oh, oh!  I think the KM UK time machine (the KARDIS? not be konfused with a kardashian!) must be broken. It's started moved in space as well as time, and seems to have turned into a teleport device like The Fly!  Something has gone horribly, albeit beautifully, wrong! Abort! Abort!
We entered 27 Feb 2003 - Minority Report DVD Launch into the control panel and we've ended up in… Spain of all places.  And we don't have a 'Cruise' in front of us.  We've got a 'Cruz'.  That's an even shorter 'Cruise' (there was no way we were getting through this without a height joke).  Joking aside, it's Mónica Cruz, younger sister of Penélope who, I understand, was in a relationship with Tom at this time.  In keeping with the plot of Minority Report seeing the two ladies together like that I have a vision of a future crime or two being committed.  I can't be in the minority with that (see what I did there?) 😮
Kathryn starred in Minority Report as Lara Clarke, the estranged wife of Tom's John Anderton character.  The loss of their son is a key element of the story and Kathryn plays an important role in the later stages.  The very successful Steven Spielberg-directed sci-fi movie, based on a short story by Philip K Dick, also stars Max von Sydow, Samantha Morton and Colin Farrell.
One last thing: who is that dummy on the right?

13 photos of Kathryn and Mónica in Madrid to promote the VHS and DVD launch of Minority Report in Spain are now the KM UK Gallery.
We will no doubt be returning to both 2003 and Minority Report in the future.