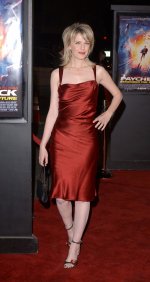 For various reasons it has been a quiet December on KM UK.
To make up for it we're going to take a trip to an Xmas past.  It's an Xmas present to enjoy for the Xmas (in the near) future.  See what I did there?

Fourteen, yes 14!, years ago today (18th December 2003) the action/sci-fi-ish movie Paycheck got the red carpet treatment at the Chinese Theatre in Hollywood.  The general release started a week later on the 25th.
Strikes me as an odd time to bring out a movie.  In the UK that would never happen.  The big day is a national holiday so places like cinemas are not open, Boxing Day maybe.  I know that in the US Thanksgiving is more significant like that.
It had not occurred to me before but the wonderful red colour of Kathryn's dress is a little bit Xmas-y.  Wonder if it was deliberate.  As there is not much more to it than the colour hopefully winter in Hollywood was not cold that evening

Last updated in 2010 I've added 12 more photos to the Paycheck première gallery here.  That's one large image (the one above) and 11 medium sized ones.