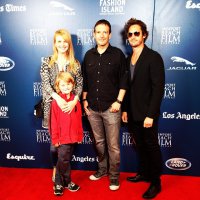 First!
Kathryn's first public appearance of the year that is.  Let's hope it is the first of many.  It is so great to see her again.
As reported previously the short film The Coin was screened at the Newport Beach Film Festival yesterday (26th April) and all our wishes came true because Kathryn was in attendance.
As you can see she was there with Fabien Martorell (co-writer/co-producer/director of the film), Will Kemp (co-producer/actor) and young Jack Ryan Shepherd (actor).
Thanks to Fabien for the photo.  It is in the KM UK Gallery.
Everyone here sends best wishes to everyone there.
Update:  A couple more photos have been added.  Thanks to Will Kemp and Fabien again.
Update (28th Apr):  An additional three photos courtesy of Fabien and Severine.