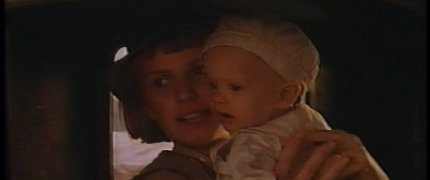 And now for something completely different.  Can't say I ever expected to see this.  I'd chalked it up as one that was likely to always escape me.  However, due to the generosity of a reader I can bring you something that will be new to most.  Thanks to Misa for all her help, it was above and beyond the call of duty.  It was definitely a long road to my home for this.
Dating from 1991, Long Road Home was Kathryn's first credited TV or film appearance, this actually being a "made for TV movie."  In fact it is so old and Kathryn was so young back then that she hadn't even grown the "r" or "n" in her name, being listed only as Kathy Morris

She really is quite the babe in arms. Well, a babe anyway 😉
Screencaps and video clips can now be found in the Gallery.