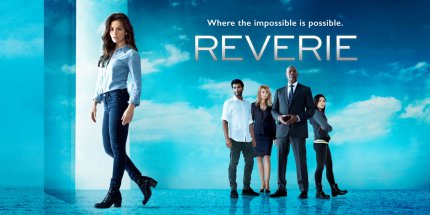 Just over a week ago now (Friday, 23rd March) attendees of the WonderCon event in Anaheim, California, were given the opportunity to watch a special screening of the first/pilot episode of Reverie.
Since then there have been several articles posted online by bloggers and journalists that were there.  I thought it worth taking a little time to highlight a couple of them with slightly different takes on things.
Warning:  These articles do include descriptions of plot elements which could be considered spoilers by those wanting to go into show fresh when it finally airs.
First up is a piece by Derek Vigeant at the TVweb site.  Derek is enthusiastic about what he saw.  He singles out lead Sarah Shahi in particular for praise:
Shahi is absolutely fantastic as the lead and it continues to baffle me that this woman hasn't been the lead on more shows. She demonstrates the intelligence and determination of someone that could quickly acclimate to being inside the Reverie.
Dennis Haysbert, Sendhil Ramamurthy, and Jessica Lu are noted as not playing major parts in this episode but sees hints as to their future developments.  Kathryn is not named in the article but mention of "big brother sticking their nose in things" is almost certainly a nod towards her DoD official's involvement.  Derek has concerns about the weekly procedural aspect getting "stuck in a rut" but that things like the DoD should help prevent that.
The overall fairly positive TVweb piece ends on a hopeful note:
As long as Reverie continues to grow and develop like the [VR] program itself they should have plenty to offer as this series debuts this summer on NBC.
You can read Derek Vigeant's piece in full on the TVweb site HERE.
Over at the 4 Your Excitement site, Stephanie Coats has a slightly less upbeat take on the show.  It kicks off with the title 'Doesn't Live Up To Its Dreams' and continues in the first paragraph:
Picture Inception but less gritty and less stylized, sprinkle in some of the elements of Black Mirror's "San Junipero", and add more commentary on cell phone addiction, then you'll have a fairly good idea what Reverie is like.
Stephanie's piece is more of a description of the story elements than a detailed critique and continues in the final summing up:
As it stands after episode one, there is little that is new, clever, or intriguing to get you hooked. Almost every idea feels lifted from another show or movie. Reverie is lighter, both in tone and look, than its sources of inspiration.
Stephanie Coats' article can be read HERE on the 4YE site.
Thank you to both Derek and Stephanie for writing up their thoughts on Reverie.  We look forward to forming our own opinions later this year.