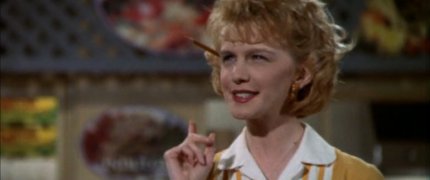 It has taken a while but UK TV network ITV have finally got almost to the end of the Murder, She Wrote series.  The sister channel ITV got here last year but now the parent (I know, I've made this a complicated family

) ITV1 has caught up.  This means HD is possible.
On Monday, that's the 6th of April aka Easter Monday, ITV1/1HD will be showing episode 22 of the 12 season of Murder, She Wrote.  It's titled What You Don't Know Can Kill You and saw Kathryn in one of her earliest roles as Doreen the waitress.  There were only two more episodes of the show ever made, prior to the four TV movie specials.  Kathryn must have left an impression as four years later she had a lead role in one of them.  You can see more details on that here.  I expect it to come around again quite soon, look out for another classic KM UK Media Alert!
Those still recovering from Sunday's chocolate induced coma will need to set their alarms for 9:25 on Monday morning.  Sorry.
If you can't wait until then my 2009 spoiler laden review of this MSM episode can be seen here and there is plenty of coverage in the KM UK Gallery too.